Like most investors, one of your top goals has been to enjoy financial freedom at whatever age you choose. So, it stands to reason that your money should ideally generate above-market returns with below market risk.
One of the best ways to do that is to follow the Warren Buffett model.
In fact, if you want to invest in companies attractive to the billionaire, make sure they are:
Simple companies that are easy to understand
Companies with predictable and proven earnings
Companies that can be bought at a reasonable price
Companies with 'economic moat,' or a unique advantage over its competition.
To spot opportunities, Buffett looks for five key criteria
Before Buffett invests, the company must include five key criteria.
No. 1 – The company must be easily understood
An investor must fully understand a business before investing in it. If you have a problem explaining it to yourself in simple terms that even a child can understand, or if it's just too complex, you may want to avoid the investment.
Buffett makes sure he can understand the business inside and out. If not, that company may not be worthy of his investment. That may help explain why his portfolio is full of financial and consumer-goods companies instead of tech stocks and health companies.
No. 2 – The company must have predictable and proven earnings
'If the company has operated with consistent earnings power and if the business is simple and understandable, Buffett believes he can determine its future earnings with a high degree of certainty. If he is unable to project with confidence what the future cash flows of a business will be, he will not attempt to value the company. He'll simply pass,' notes The Warren Buffett Way.
No. 3 – Can the stock be bought at a reasonable price?
His goal has always been to identify stocks that can earn above-average returns, and then buy the stock at prices below current value. In fact, as Buffett noted in 1988, 'Great investment opportunities come around when excellent companies are surrounded by unusual circumstances that cause the stock to be misappraised…'
No. 4 – Does the company have a strong economic moat?
If the company has a strong economic moat, it allows it to set itself apart from its peers, and protect itself. In determining a strong moat, we want to know if the company has a strong brand. Are switching costs too high for consumers to change what they currently use? Is there a network effect? For example, Apple has a network effect with its Mac computer.
Some of the top Buffett Stocks you may want to pay close attention to include:
Buffett Opportunity No. 1 – Kroger Co. (KR)
In the fourth quarter of 2019, Warren Buffett's Berkhire Hathaway spent $549 million to pick up about 19 million shares of Kroger between $23.84 and $29.10.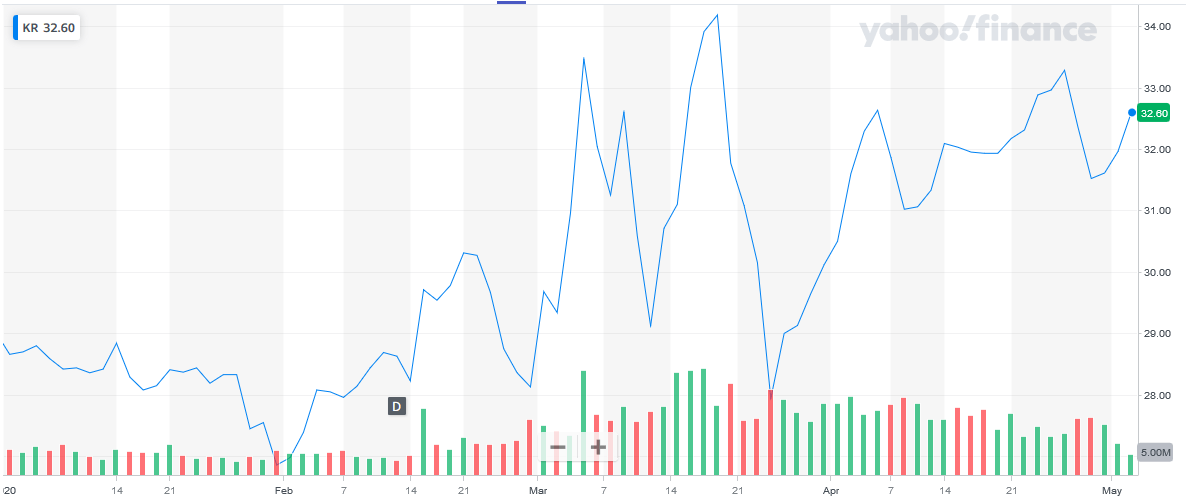 Around that time, Chairman and CEO Rodney McCullen noted, 'Kroger's customer obsession and focus on operational excellence continued to generate positive results in the third quarter. Identical sales were the strongest since we started Restock Kroger and gross margin rate, excluding fuel and pharmacy, improved slightly in the quarter. At the same time, we continued to reduce costs as a percentage of sales.'
'We are using the power of Kroger's stable and growing supermarket business to create meaningful incremental operating profit through the alternative profit stream businesses, which adds up to a business built for long-term growth that generates consistently attractive total shareholder returns. Kroger continues to generate strong and durable free cash flow as reflected by the fact that the company has reduced debt by $1.5 billion over the prior four quarters and continues to increase its dividend to create shareholder value.'
Kroger is seeing additional upside with the coronavirus keeping many of us at home. All as grocery stores see a sizable boost from an increase from folks eating at home. Better, Kroger saw a 30% jump in March 2020 same-store sales.
Buffett Opportunity No. 2 – Apple Inc. (AAPL)
Apple is still one of Berkshire Hathaway's top holding, making up nearly 30% of the portfolio.
With a diversified revenue stream, and an ability to adapt to new consumer trends, Apple will always be a strong part of the Berkshire portfolio, in our opinion. In addition, Buffett still believes the iPhone is underappreciated, and is a big fan of Apple's buyback programs.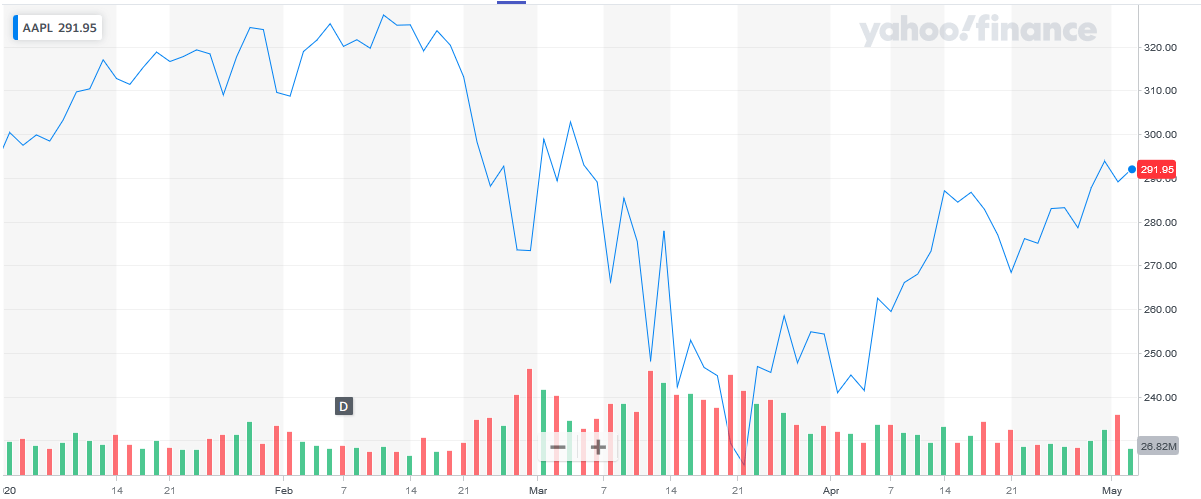 Better, 2020 could be a big, big year for Apple.
Not only could Apple win the 5G market share race, it'll benefit from the wider adoption of wearables. At the moment, its Apple Watch, for example, accounts for nearly half of all smartwatch sales. Plus, Apple has plans to double its services revenue by 2021. Services revenue currently accounts for 20% of AAPL revenue, up 16% year over year.
Buffett Opportunity No. 3 – Coca-Cola (KO)
Buffett bought more than $1 billion worth of KO in 1988 after seeing consistent performance and good long-term prospects based on the nuts and bolts of the company. He also saw bargain in the stock price after years of disaster. The stock, said Buffett, wasn't reflective of the growth set to occur in the company's international business.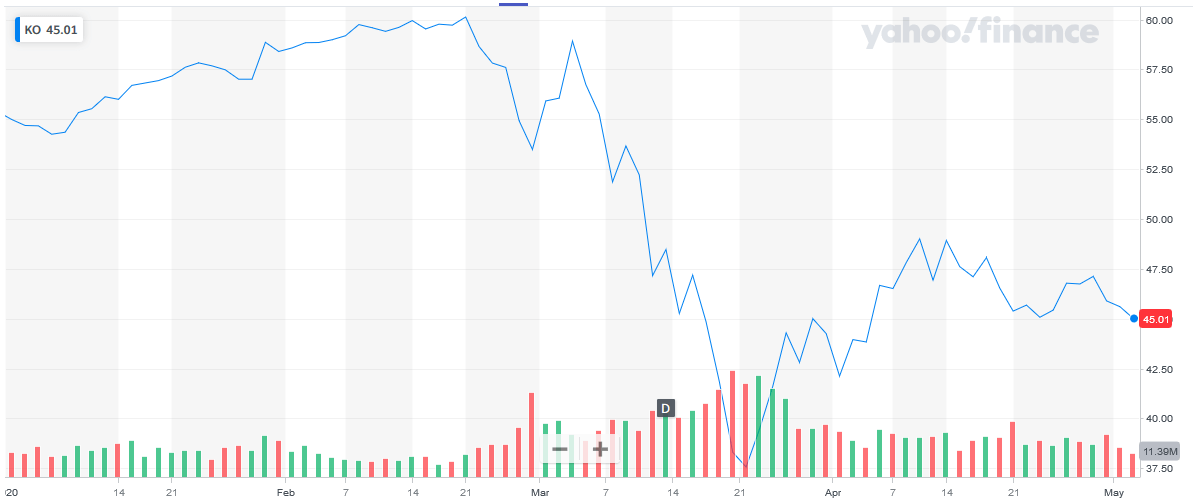 Plus, it carries a reliable dividend that has been consistently increased for more than 57 years. It's also recession-resistant. Demand for water, juices, and soft drinks has also remained consistent for quite some time.
In addition, KO changes with consumers. For example, as health issues and tastes have changed, so has KO and its addition of sparkling water, juices, and healthy drinks.
Buffett Opportunity No. 4 – Procter & Gamble (PG)
Procter & Gamble is another Berkshire Hathaway stock that's done well over the year, and has held up considerably well in the COVID-19 pandemic. The company just increased its dividend for the 64th straight year with a payout of $0.7907. Another reason to like PG at the moment is its wide range of personal care products, and other day to day essentials.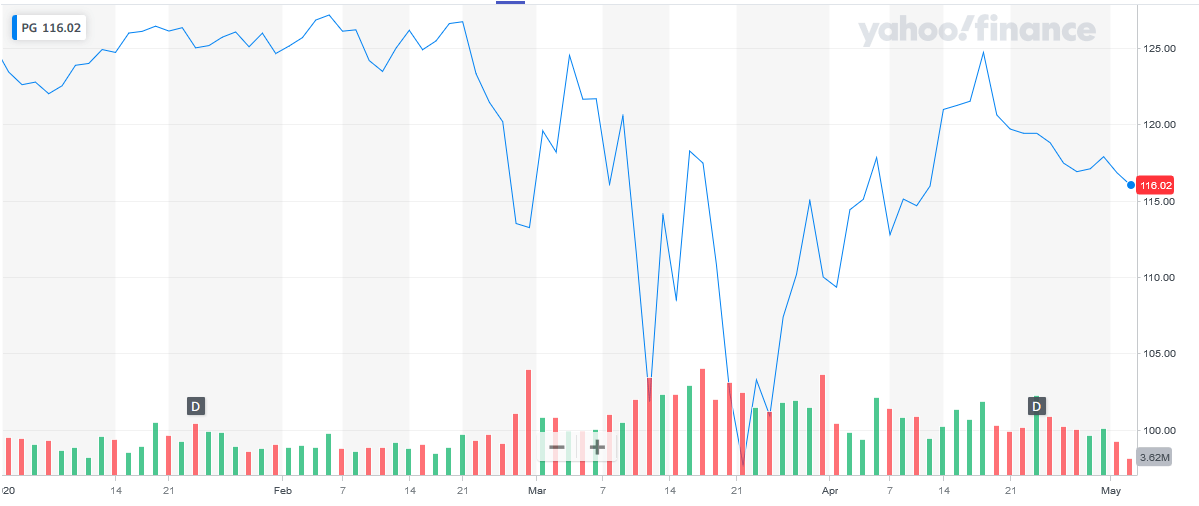 It also just got finished posting solid earnings.
PG earned $1.17 a share on $17.2 billion in sales in the third quarter, as compared to expectations for $1.13 on $17.3 billion in sales. 'The strong results we delivered this quarter are a direct reflection of the integral role our products play in meeting the daily health, hygiene and cleaning needs of consumers around the world,' said CEO David Taylor. 'Our organization has been doing a terrific job against our near-term priorities.'
Buffett Opportunity No. 5 – Johnson & Johnson (JNJ)
Berkshire currently holds 321,000 shares of Johnson & Johnson.
While the company has seen its share of headaches over the last year or so, it's still well worth the investment. The company just increased its dividend from 95 cents to $1.01, marking the 58th straight year of dividend increases. The company also boasts a strong balance sheet.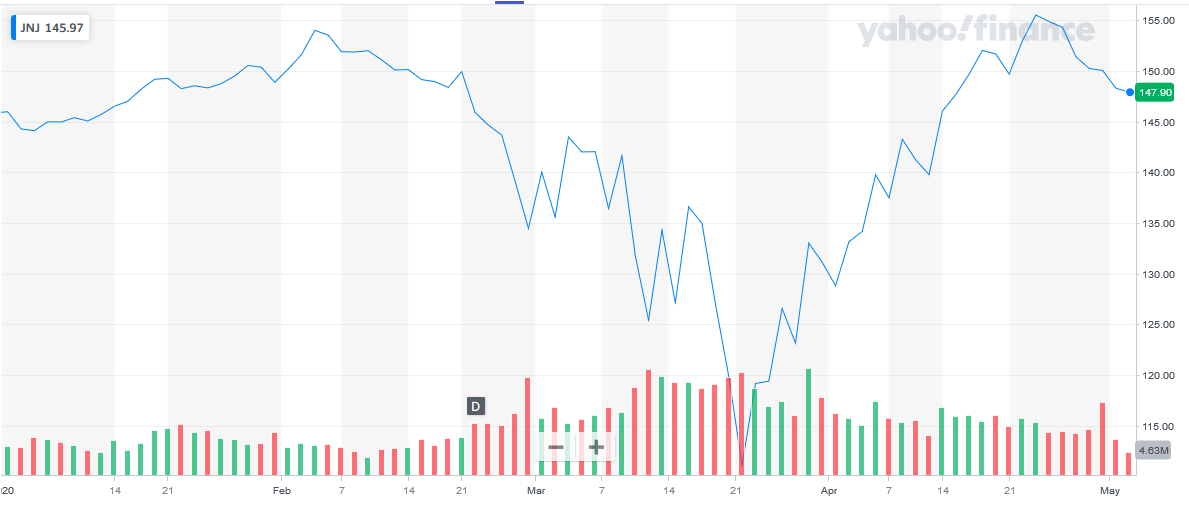 The company just posted first quarter earnings of $2.30, which beat estimates calling for $2 a share. As noted by Barron's, 'Sales of $3.6 billion in its consumer-health division, up from the $3.3 billion a year earlier. Pharmaceutical sales were also up 10.2% from the first quarter last year on an adjusted operational basis, while medical device sales were down 4.8%.'
'The fundamentals of Johnson & Johnson are strong,' Chief Financial Officer Joseph Wolk said, as quoted by Barron's. 'Once this pandemic abates, everything is still in line for us to get back to where we thought, and where folks thought, we would be.'