Like most investors, one of your top goals has been to enjoy financial freedom at whatever age you choose. So, it stands to reason that your money should ideally generate above-market returns with below market risk.
One of the best ways to do that is to follow the Warren Buffett model.
In fact, if you want to invest in companies attractive to the billionaire, make sure they are:
Simple companies that are easy to understand
Companies with predictable and proven earnings
Companies that can be bought at a reasonable price
Companies with "economic moat," or a unique advantage over its competition.
"I look for companies that have a business we understand; favorable long-term economics; able and trustworthy management; and a sensible price tag. We like to buy the whole business or, if management is our partner, at least 80%," says Warren Buffett.
October2021

Virginia Stock-Picking Millionaire Says It's Not About Diversification! Buy one single stock under $5- that trades under a secret name- and it could help make your retirement.
"When control-type purchases of quality aren't available, though, we are also happy to simply buy small portions of great businesses by way of stock market purchases. It's better to have a part interest in the Hope Diamond than to own all of a rhinestone," he added.
One company that fit Buffett's model was Coca-Cola (NYSE:KO)
Using fundamental arguments, Buffett bought more than $1 billion worth of Coke (KO) in 1988.
All after seeing consistent performance and good long-term prospects based on the nuts and bolts of the company. He also saw bargain in the stock price after years of disaster.
And, at the time, the stock, said Buffett, wasn't reflective of the growth set to occur in the company's international business. So, he bought in 1988.
Eleven years later, that $1 billion investment in Coke exploded to $12 billion.
To spot opportunities, Buffett looks for five key criteria
No. 1 – The company must be easily understood
An investor must fully understand a business before investing in it. If you have a problem explaining it to yourself in simple terms that even a child can understand, or if it's just too complex, you may want to avoid the investment.
Buffett makes sure he can understand the business inside and out. If not, that company may not be worthy of his investment. That may help explain why his portfolio is full of financial and consumer-goods companies instead of tech stocks and health companies.
No. 2 – The company must have predictable and proven earnings
"If the company has operated with consistent earnings power and if the business is simple and understandable, Buffett believes he can determine its future earnings with a high degree of certainty. If he is unable to project with confidence what the future cash flows of a business will be, he will not attempt to value the company. He'll simply pass," notes The Warren Buffett Way.
No. 3 – Can the stock be bought at a reasonable price?
When Warren Buffett refers to "price," he's referring to the valuation of the stock.
If the price is not satisfactory, the billionaire will pass.
His goal has always been to identify stocks that can earn above-average returns, and then buy the stock at prices below current value. In fact, as Buffett noted in 1988, "Great investment opportunities come around when excellent companies are surrounded by unusual circumstances that cause the stock to be misappraised…"
No. 4 – Does the company have a strong economic moat?
If the company has a strong economic moat, it allows it to set itself apart from its peers, and protect itself. In determining a strong moat, we want to know if the company has a strong brand. Are switching costs too high for consumers to change what they currently use? Is there a network effect? For example, Apple has a network effect with its Mac computer.
Buffett also wants to know if the stock he's investing in offers product at a cheaper cost. If you offer high quality products at lower costs than your competition, much like Wal-Mart, you have an economic moat.
The billionaire also checks for intangible assets.
There are some companies that have a powerful advantage over others because of intangible assets, including patents, licenses, and brand recognition. If a company's product is well protected with a patent, it's tough to duplicate what's protected.
If a company has a strong, impenetrable moat, it may be worth looking into.
Here are five you may want to consider.
Opportunity No. 1 – Verizon (VZ)
Buffett and his team took about a $9 billion stake in Verizon. Not only is Verizon a quality name, but it's generous with its dividend payouts, paying a current yield of 4.28%. Plus, the investment gives Buffett's team exposure to the 5G and Internet of Things boom.
Earnings aren't too shabby either.
For Q1 2021, the company reported $1.27 in earnings per share, compared with $1 in 1Q 2020; adjusted EPS, excluding a special item, of $1.31, compared with $1.26 in 1Q 2020.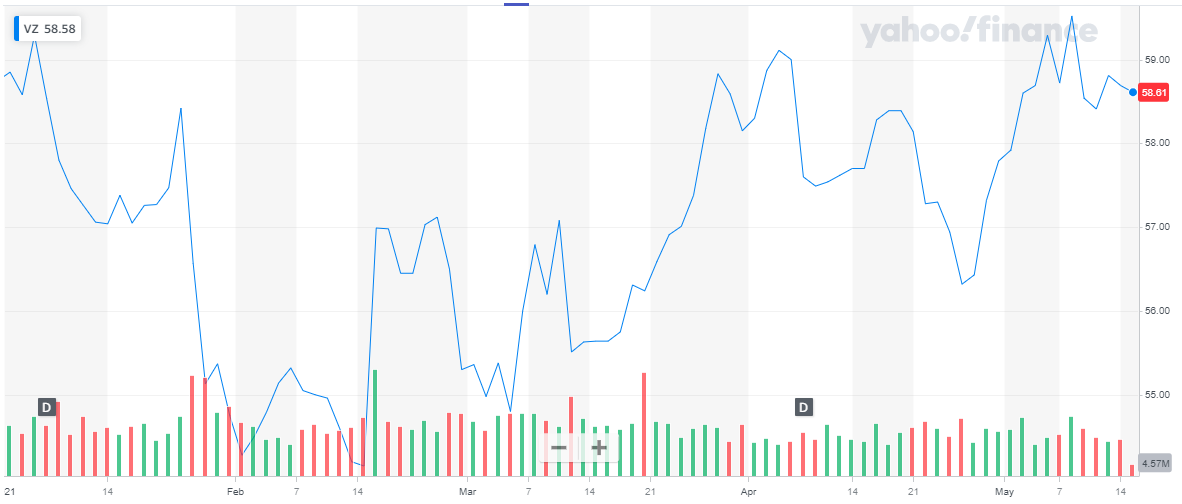 Operating revenue increase of 4.0 percent from first-quarter 2020. Net income of $5.4 billion, an increase of 25.4 percent from first-quarter 2020, and adjusted EBITDA (non-GAAP) of $12.2 billion, an increase from $11.9 billion in first-quarter 2020.
"Verizon is off to an excellent start in 2021 as we met the challenge of intense competition in the first quarter by achieving revenue growth across our three business segments," said Verizon Chairman and CEO Hans Vestberg. "This year began with a transformative milestone for our company with our success in the recent C-Band spectrum auction. We continue to strengthen our networks, execute on our Network-as-a-Service strategy and focus on the five vectors that underpin our growth framework and position us to deliver success in 2021 and beyond."
Opportunity No. 2 – Apple Inc. (AAPL)
With a diversified revenue stream, and an ability to adapt to new consumer trends, Apple will always be a strong part of the Berkshire portfolio, in our opinion. In addition, Buffett still believes the iPhone is underappreciated, and is a big fan of Apple's buyback programs.
Better, earnings continue to be strong. For Q2 2021, the company posted record revenue of $89.6 billion, up 54 percent year over year, and quarterly earnings per diluted share of $1.40. International sales accounted for 67 percent of the quarter's revenue.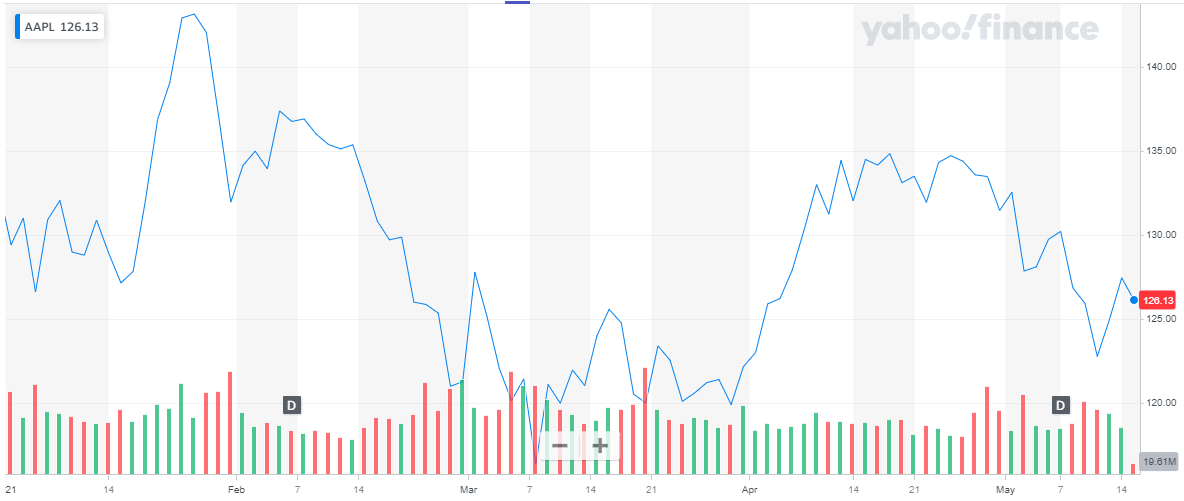 Plus, the company just declared a cash dividend of $0.22 per share of the Company's common stock, an increase of 7% — payable on May 13, 2021 to shareholders of record as of the close of business on May 10, 2021. The board of directors has also authorized an increase of $90 billion to the existing share repurchase program.
Opportunity No. 3 – AbbVie Inc. (ABBV)
Buffett's team increased its stake in ABBV by 20% to 25.5 million shares. In addition, according to U.S. News & World Report, "Buffett may be betting that the health care sector will get a boost from the Joe Biden administration and a Democrat-controlled Congress. AbbVie is a global pharmaceutical company and the owner of leading drugs Humira and Imbruvica."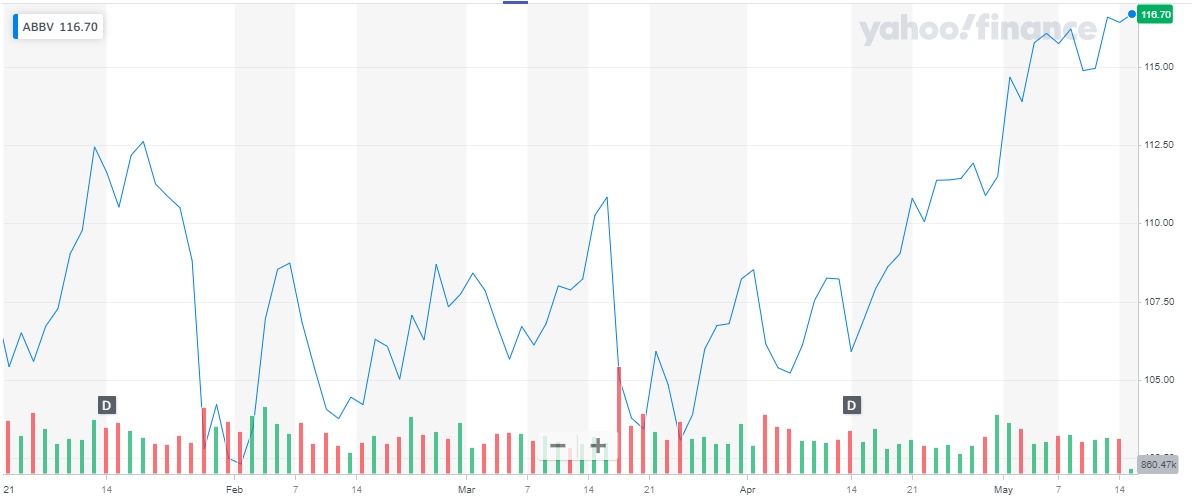 "We are off to an excellent start to 2021, with strong performance across our core therapeutic areas and first quarter revenue and earnings results ahead of our expectations," said Richard A. Gonzalez, chairman and chief executive officer, AbbVie. "Our new products are delivering impressive performance and we are on the cusp of potential commercial approvals for more than a dozen new products or indications over the next two years – including five expected approvals in 2021."
Opportunity No. 4 – Kroger (KR)
Buffett's team continues to buy shares of Kroger. In fact, the team increased its stake by 34.3%, ending 2020 with 33.5 millions shares. Not only did the grocer declare a quarterly dividend of 18 cents a share, payable on June 1 to shareholders on record as of May 14, it posted another strong quarter of results.
Total company sales were $30.7 billion in the fourth quarter, compared to $28.9 billion for the same period last year. Excluding fuel and dispositions, sales grew 10.7%. Gross margin was 22.9% of sales for the fourth quarter.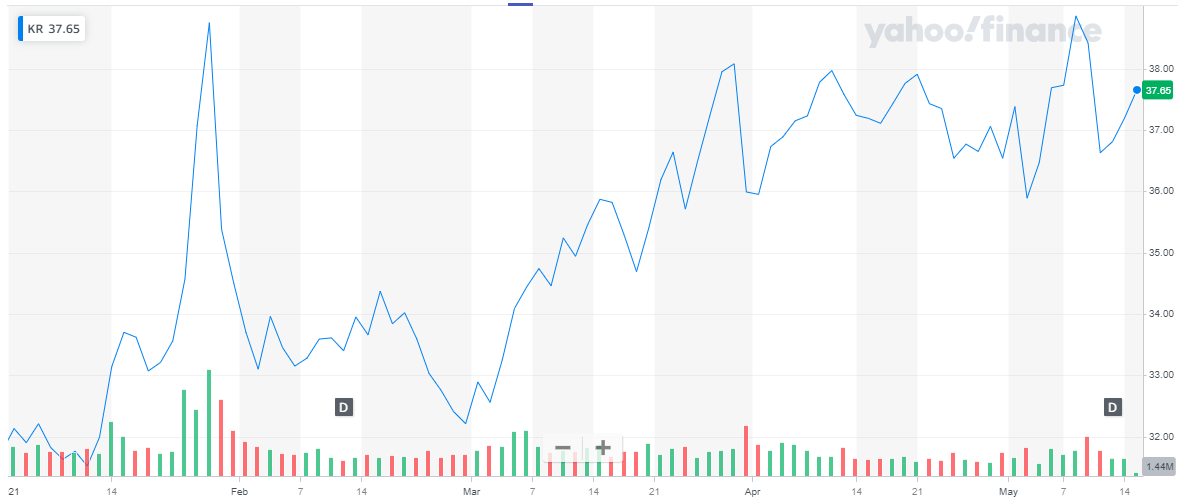 "Kroger continued to grow market share during the quarter. Our ability to meet our customers' evolving needs is a testament to our deep competitive moats, disciplined investments in our increasingly robust digital capabilities, as well as our associates' relentless focus on our customers. We finished fiscal year 2020 with strong sales and earnings, as heightened demand for fresh, convenient food and meal solutions across modalities, including in store, pick up and home delivery, continued throughout the fourth quarter," said Chairman Rodney McMullen.
Opportunity No. 5 – Merck (MRK)
Buffett also increased his stake in Merck by 28.1% to 28.7 million shares.
According to U.S. News & World Report: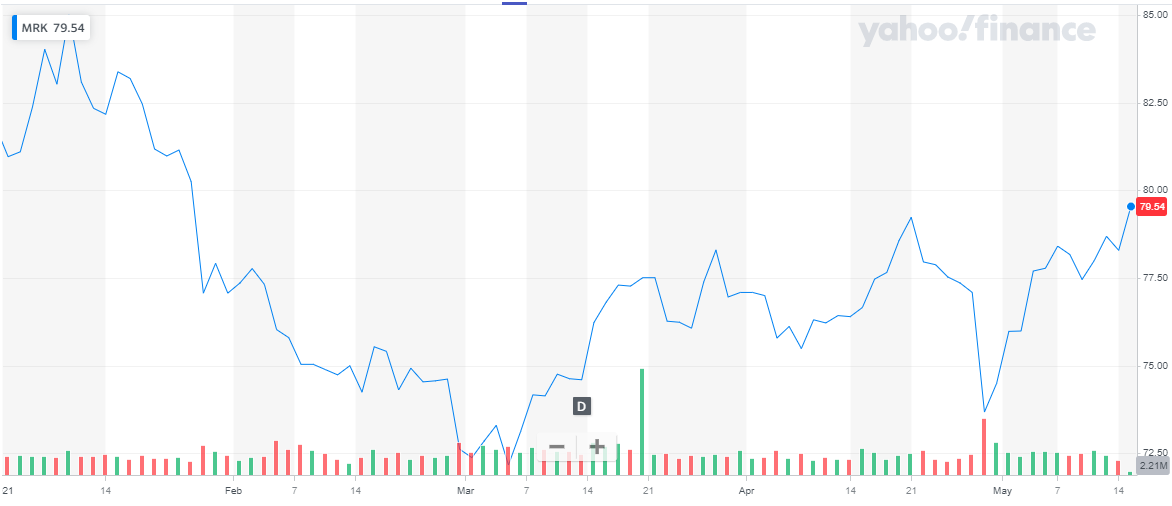 "The global pharmaceutical giant is the owner of blockbuster cancer drug Keytruda, which is on patent through 2028 and has already been approved for more than 20 indications. Merck is also testing additional potential indications, such as breast and colon cancer. Merck's diverse product portfolio generated $7 billion in net income in 2020. The company isn't losing exclusivity on any of its major brands until at least 2022."