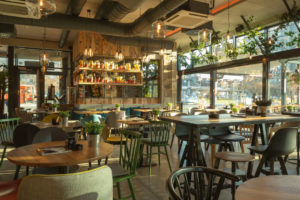 There probably hasn't been a more impacted industry than restaurants since all of the COVID-19 closures were sent down by executive orders in almost every community in the world. The Yelp data doesn't look pretty, but the opportunity to escape this crisis with increased market share a profitability is intriguing as an investor. The only problem is which companies are going to make it and which represent the best investment opportunity. Here are four stocks to consider if you're becoming a "foodie" investor.
If you clicked on this post, you probably know what a "foodie" is, but just in case I wanted to define it. From Wikipedia, a foodie is, "a person who has an ardent or refined interest in food and who eats food not only out of hunger but due to their interest or hobby and passionate about food." As an investor, refining our interests is significant as you evaluate a position for its investment possibilities.
As you consider the restaurant landscape, one of the biggest considerations is whether the restaurant is exclusively dine-in or is there a drive-thru option. While most every restaurant has always allowed carryout, being able to drive-thru provides an entirely different level of experience and convenience, particularly if you're afraid of germs. Many restaurants have offered curbside pick-up or have contracted with companies like Grubhub Inc (NYSE: GRUB) to deliver. Companies like Shake Shack Inc (NYSE: SHAK) are looking to add drive-thru windows to many of their locations. Whatever, the future holds, whether policy or preference, the post-COVID world of eating will be changed for a long time and investors are making investments today about what that future will look like.
Check out our other recent posts.
7 Best Blue Chip Stocks to Buy Right Now 2020
4 Stocks with Significant Option Activity and Moving on Stimulus Hopes
Here are 3 restaurant stocks offering different models to consider for foodie investors making their way in a post-COVID world.
Foodie Stock #1: Bloomin' Brands Inc (NASDAQ: BLMN)
Bloomin' Brands is a company that own Outback Steakhouse, Carraba's Italian Grill, Bonefish Grill and Fleming's Prime Steakhouse. These types of establishments seem archaic in the current climate of closed or physically distanced eating regulations. However, I'm not sure that American's are willing to give up everything and some of these types of establishments will survive.
One the things that has to happen is to cut operating expenses. In the most recent quarter, the company was able to do just that. It also helped the company beat analyst earnings estimates as well. The company reported a $0.74 loss compared to analyst estimates of a $1.12 loss. The report also led to significant positive revisions to future earnings. With cash of about $403 million, the company has over one quarter of operating expenses.
While the future of BLMN is uncertain, the company is trading at a very low price-to-sales multiple and saw significant bullish option activity on Thursday. This may not be the bet long-term investment, but the stock price has potential to retest the June high near $15.50.
Foodie Stock #2: Domino's Pizza, Inc (NYSE: DPZ)
In stark contrast to Bloomin', Domino's is one of the most perfectly structured companies for a post-COVID world. The restaurant is almost exclusively carryout, and they sell pizza. Their primary product is one of the cheapest alternatives to feed a family there is and that may go a long way in a recession or worse.
The company also blew away analyst estimates in their last earnings report and has had strong positive revisions to future earnings periods. The company also have a 5-year projected earnings growth by analysts of 15.26%. Compared to Bloomin', this is a growth versus value opportunity.
While the projected growth is nice, the stock is up over 33% for 2020 and you begin to worry about how much of the growth is priced in. The future is more certain for a restaurant like DPZ, but the upside may be less, particularly in the near-term.
Foodie Stock #3: McDonald's Corp (NYSE: MCD)
McDonald's has done as much as any other restaurant to maintain their sales in a difficult climate. Over the past several years, the company has sought to add digital outdoor menus and multiple driving lanes. It's been pretty clear that they intend to generate more sales per location rather than add more locations. The company was founded on the idea of franchises and providing the same experience with high volume. Again, this company seems ready-made for our current climate.
Despite the measures they're taking, the fact is that people are eating out less than they were, and the company's earnings reflects that. They missed analyst EPS estimates in the most recent quarter with $0.66 versus $0.74.
As you consider MCD, this stock has limited growth potential and isn't trading at a particularly compelling valuation, but it has a stable track record of success and it pays nearly a 2.5% dividend yield.
As you consider these three foodie investment opportunities, there are three choices on the menu with a value, income and growth opportunity. It likely has something for every member of the family of investors to choose.