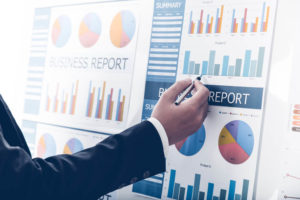 It's been a surprising Q2 earnings season so far. With over 80% of companies beating estimates and earnings growth coming in higher than expected, it has led Goldman Sachs to raise their earnings guidance for the next two quarters last Friday. As we look forward to finishing this week, there are several relevant companies reporting earnings. Here's five companies to watch and what to expect.
As you consider the Q2 earnings season, it's hard to be bullish about seeing earnings decline by 35% on over 10% lower revenues as of last week. However, it is easy to point to closing the economy as a major contributor. The question that investors are trying to gauge is how quickly the economy snaps back and it appears that the outlook for Goldman Sachs is beginning to shift and they have built a thesis that the recovery will occur more quickly than previously estimated. Their new estimate is for only a 20% decline in growth. Goldman Sachs chief economist David Kostin described Q2 projections, "Earnings season is coming to a close and S&P 500 results cleared an extremely low bar." The low bar has therefore yielded smaller than expected movement following an earnings beat.
As you look forward to the rest of the week, there are a number of companies that are impactful and may tell a story about the state of the economy. I've highlighted five of them in this post and what analysts and the options market is expecting.
Earnings Stock #1: Cisco Systems, Inc (NASDAQ: CSCO)
With all the tech companies taking off, Cisco has been left out in the cold. The enterprise part of their business is likely held them back as analyst estimates have remained flat over the past 90 days. For Q2, analysts are expecting Q2 EPS to decline 10.8% from $0.83 to $0.74. Over the past year, the company has beaten analyst estimates in every quarter, with a 14.50% EPS beat in the last quarter. Revenues are projected to decline by 10% for Q2 and 5.1% for the fiscal year. A solid beat may have this company back on track a lot faster than many other companies. CSCO announces on August 12 after the market close.
This week's option expiration has an average implied volatility of 62.06%. That annualized volatility number breaks down to an expected move for this week of +/- $2.69. That represents the one standard deviation move for the week that should contain approximately 68.2% of the price movement. That means a likely move higher to $50.42 or down to $45.04.
Earnings Stock #2: LYFT Inc (NASDAQ: LYFT)
Lyft has been several bullish unusual option activity days over the past week. We discussed on the those days on August 7. Uber's report didn't excite investors, but the company showed a lot of strength in its delivery business. Lyft launched a similar program in April that we will have a chance to examine upon the release of their earnings report on August 12 after the market close. The company has seen negative revisions to their Q2 earnings following Uber's announcement. However, the estimate of a $0.99 loss is better than the $2.23 they earned last year.
The current expected move for this week is +/- $3.78. That means the 68.2% probability range is between $34.93 to $27.27.
Earnings Stock #3: Wheaton Precious Metals Corp (NYSE: WPM)
Wheaton has definitely benefited by rising gold and silver prices over the past month that was marked by the weakest month for the dollar in ten years. However, the price has been consolidating over the past couple weeks as the earnings announcement on August 12, after the market close, approaches. Current analyst estimates are at $0.19 for Q2 compared to $0.10 a year ago. The earnings growth is coming on the heels of 18.9% projected revenue growth.
The current expected move for this week is +/- $4.08. That means the 68.2% probability range is between $56.83 to $48.67.
Earnings Stock #4: Applied Materials, Inc (NASDAQ: AMAT)
Applied Materials is scheduled to announce their earnings on August 13 after the market close. Unlike the companies we've already covered in this post, analysts are expecting earnings to increase by 28.4% year-over-year. The current analysts estimate for Q2 EPS is $0.95 compared to $0.74 last year, and for the current fiscal year EPS of $3.81 compared to $3.04 in 2019. Revenue growth for the quarter is projected to come in at 16%.
The current expected move for this week is +/- $4.03. That means the 68.2% probability range is between $69.27 to $61.21.
Earnings Stock #5: Draftkings Inc (NASDAQ: DKNG)
This is only the second earnings report since the company went public on April 24. The company lost $0.13 in that report and analysts are expecting a loss of $0.19 in the upcoming earnings announcement on August 14 before the market opens. The analyst EPS expectations for Q2 have increased a little after the huge downgrade a little over 60 days ago.
The current expected move for this week is +/- $4.21. That means the 68.2% probability range is between $35.82 to $27.40.