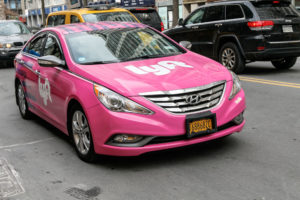 After the market close on Thursday, it was up to Uber Technologies Inc (NYSE: UBER) to give a hint at the state of rideshare companies following the advent of COVID-19. While the company was down afterhours, the results beat expectations. With LYFT Inc (NASDAQ: LYFT) set to announce next week, option bulls have been building their positions for most of the week and are looking for a positive result next week.
Special:
Retire on these 3 stocks
For Uber, analysts were expecting an $0.86 loss, which the company ended up missing with a wider loss of $1.02. The company's revenue beat analyst expectations with $2.18 billion, despite a 73% drop in their rideshare business from the same time last year. While gross rideshare booking missed expectations, it was the companies eats gross bookings that beat expectations. While the price is indicating that it's trading lower afterhours, it doesn't appear that the report was a huge miss.
Lyft introduced a delivery service for groceries, meals and medical supplies in April. While the company will likely see the same drop in their core business, the interesting part is how their expansion worked out relative to UBER. At least from the options market, they might be looking at a positive surprise.
Lyft experienced large call buying activity on Tuesday and Thursday for this week's expiration, but also had significant activity last week for the 14 AUG 20 expiration that carries over their earnings. The price was falling afterhours yesterday on Uber's news.
Here are links to our latest unusual option activity reports.
Large Option Spread Placed on Gold ETF: VanEck Vectors Junior Gold Miners ETF (NYSEARCA: GDXJ)
Option Traders Smiling Ahead of Earnings: SmileDirectClub Inc Stock (NASDAQ: SDC)
Action to Take: The near-term expectation is for a bullish response to earnings next week and a potential move to $36.
Option traders may want to consider buying the 14 AUG 20 31/32 call for around $0.50 or less.
Special:
Collect 5 dividend checks per week