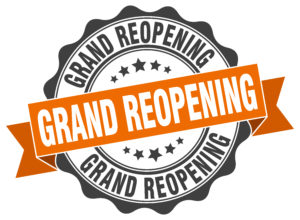 Back in February, I began compiling my COVID-19 watchlist of companies that would benefit during the pandemic. It consisted of work from home stocks, biotech, virtual and social distance companies. It's been great while it lasted but stocks like Peloton International (PTON), Moderna Inc (MRNA) and Teledoc Health Inc (TDOC) are starting to come off as the rotation is moving in other directions.
An important point that investors need to learn is that the market isn't static. What was winning at one point can become a loser at another. Investors need to adapt and find where the opportunity is. While the mass reopening of the economy in some material way isn't for certain, the market is already moving in anticipation that it will until further evidence materializes.
The following list of companies are set to move big on as the reopen trade materializes.
Reopen Stock #1: Dillard's, Inc (DDS)
Dillard's began closing stores on March 19 and had all their stores closed by April 9. By May 5, the company began reopening and has 149 stores opened as of May 14. The company stated that they are trending about 56% of last year's performance on the stores that reopened on May 5. The company discussed in their earnings report that they made a point to liquidate their inventory by March 24 and were largely successful. DDS is a company that owns its locations and is in a position to capitalize on some return to normalcy. They also have about 49% of their float shorted as of April 30.
Special:
The Top 5G Stocks to Buy Now
Reopen Stock #2: Dine Brands Global, Inc (DIN)
Dine Brands owns iconic restaurant brands like IHOP and Applebee's. It has faced tremendous adversity with the closure of dining rooms due to COVID-19 measures and will still face headwinds with further social distancing requirements. That being said, of all the activities that people are likely to engage in, it will be eating out. The company has $395 million in cash and only $35 million in sales and general administration expenses per quarter. This means they are in a position to weather the continued storms that we're still experiencing for a while. The company has over 22% of their shares shorted.
Reopen Stock #3: Planet Fitness, Inc (PLNT)
This is an opportunity that is the opposite of PTON. As gyms reopen, it will test the model of paying for a subscription to workout from home. If you haven't been to the store or looking online, exercise equipment has been in short supply. As people work their way back to the gym, it puts companies like PLNT in a good position. The company discussed the "very good momentum" heading into the closures. While their locations were closed, the company took measures to increase liquidity. The company has 11.78% of their float shorted.
Reopen Stock #4:  Live Nation Entertainment, Inc (LYV)
Live Nation is an entertainment company that promotes live music events in their own venues and rented third-party venues. While attending concerts and other stadium-type events may be further down the list of activities in a post-COVID world, it is a place that people are anxious to get back to. The company has looked to raise liquidity through debt offerings and is targeting a $1 billion cash management program. The company reported that 90% of ticketholders opted to keep tickets over refunds and 91% of global live music goers say that they want to return to concerts. The company is also seeking to cut $600 million in costs in 2020. The company has 11.65% of their float shorted.
Reopen Stock #5:  Expedia Group, Inc (EXPE)
With sheltering-in-place orders being lifted, it makes sense that people may want to get out and begin traveling again. The type of travel may change, but with travel comes the need to book accommodations. While the company acknowledges the difficulty that the pandemic posed for the company, they did discuss the cost-cutting measures they had implemented at the beginning of the year. The company was also able to secure $3.95 billion in additional funding through a preferred offering and 5-year unsecured notes. The company appears to be well positioned to benefit when travelers return. The company has 10.16% of their float shorted.