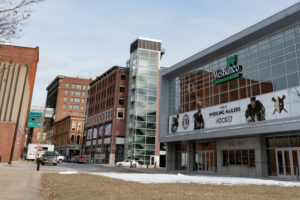 Eight different insiders stepped up to buy shares of WesBanco Inc (NASDAQ: WSBC) preferred offering that was issued on August 4. For the Wheeling, WV bank, it's an indication of positive expectations for the bank as it attempts to find a bottom and work it's way higher. In a week where interest has picked up for banking stocks, it makes the timing of the issuance and purchases interest for those looking for long opportunities.
When the company reported earnings on July 22, they missed analyst estimates with non-GAAP EPS if $0.07 compared to the estimated $0.35. The company had previously reported $0.56 a year ago. They surpassed analyst estimates for revenues and last year's mark with $151.87 million in quarterly revenue.
Insiders currently own 2.65% of the outstanding shares with nearly 60% of the shares owned by institutions. On August 4, eight different insiders bought 31,280 shares totaling $782,000. The share purchases aren't necessarily a strong signal for future price appreciation, but it does provide some bullish indications for a stock price that has been struggling since its March low near $19. On Thursday, the price finished 1.8% higher on higher volume.
Here are links to our latest insider trading reports.
Is this Stock About to Lose Its Course: Charter Communications Inc Stock (NASDAQ: CHTR)
Special:
The Time to Invest in 5G Is NOW!
Investment Firm Closes Out Position in Timely Fashion: Iqvia Holdings Inc Stock (NYSE: IQV)
Action to Take: The insider trades indicate the potential for the company to pay its preferred dividend. The company pays a dividend yield of 6.1% to its common shareholders. The near-term price target is around $25.