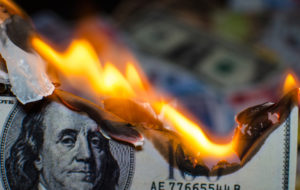 When discussion of multiple trillion-dollar stimulus efforts are either being implemented of being discussed, it makes you wonder how long it will be until the inflationary effects start to be felt. One way to reflect inflation expectations is looking at the spread between normal U.S. Treasuries and the Treasury Inflation Protected Securities (TIPS). TIPS have their principle increase and decrease with the CPI in order for the yield being paid to keep up with inflation. If inflation expectations are rising, the spread between TIPS and U.S. Treasury bonds and notes will increase. That spread has been widening since March 17 and turned sharply higher on Thursday.
A product that tracks TIPS is the iShares TIPS Bond ETF (TIP) and a product that tracks U.S. Treasury bonds, with a similar duration, is iShares 7-10 Year Treasury Bond ETF (IEF). On Thursday, TIP gained 1.53% while IEF gained 0.02%. That is a one-day indication of inflation expectations rising.
Option traders are making their move too in order to capitalize on generally rising U.S. Treasury prices and a widening spread between TIPS and standard Treasuries. On Tuesday, over 4000 contracts were bought on the 19 JUN 20 $123 call option. That's a significant indication of a strong bullish move in TIP with a break-even price of nearly $124.50.
Famous Hedge Fund Manager Leaks His #1 Stock to Profit on Post-Pandemic

Just a month ago, legendary hedge fund manager, Roger Scott announced his top stock to a few select people…

Those traders were able to earn as much as $6,031 in just a matter of days…

But today, he's announcing his newest Fast Cash stock pick that he says could be even MORE explosive…

Click here to see the stock now for FREE.

Here's the catch… you MUST see this stock in the next 24 hours…
Action to Take: The near-term target for TIP is $124.50. Speculators might want to consider the 15 MAY 20 120/121 long call vertical for around $0.50 or less. That trade gives a maximum gain or $50 a contract or 100% ROR if the stock finishes at $121 or higher at expiration. Consider selling the vertical early if it can be sold for $0.80 or more.
Special:
The Top 5G Stocks to Buy Now