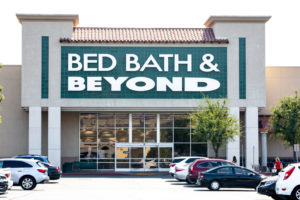 After a disastrous earnings, Bed Bath & Beyond Inc (NASDAQ: BBBY) has been climbing the hill over the past few weeks and finds itself at its pre-earnings high near $11.50. As the price faded from its high yesterday, the put option volume surged to nearly six times the average and is indicating another leg lower.
On July 8, the company announced earnings that saw its EPS miss the estimates by over 60% and the price closed nearly 25% lower the next day on substantial volume. Since that day the price has grinded higher following a short bottoming phase. Since the announcement, the current year estimate for EPS was curt from a loss of $1.72 to a loss of $2.51.
On Thursday, the option volume ratcheted up to finish over three times the average. The put volume was not only significantly higher than average it was significantly higher than the call volume. As you look at the option time and sales it really begins to get interesting. One put option trade filled in one print for 11,100 contracts at a price of $2.99. That as a $3.3 million trade for the 20 NOV 20 $12 put option. Whether it was tied to long shares or not, it's an indication of some expectation that the price may move lower as we progress into the fall.
Bargain in Today's Market (SHOCKING)

This "World's Most Admired" company's stock would be a bargain at $50...

Today it's just $2!

Plus... a key May 12 announcement could send it ROCKETING skyward...
Here are links to our latest unusual option activity reports.
Option Bulls Find Value in Post-Earnings Slump: Cameco Corp Stock (NYSE: CCJ)
Option Traders Taking the Over on the Earnings: Under Armour Inc Stock (NYSE: UA)
Action to Take: The indication provided by the big trade that was made helps you realize that BBBY may be in trouble going into the fall. This creates an opportunity to capitalize on a large downside move to retest the March low.
Speculators may want to consider buying the 20 NOV 20 8/4 long put vertical for around $90 or less.