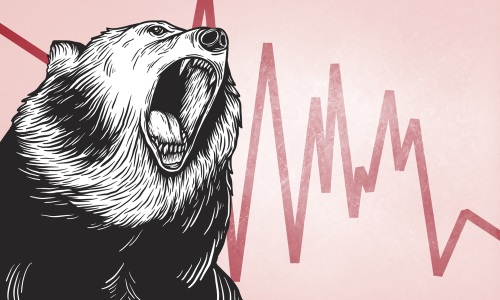 Prepare for the worst with these three recession-beating firms.
Nobody's sure how the next recession will hit. It could come from housing, like the last time. But lenders aren't being as risky as they were. Industrial profits are declining on uncertainties over tariffs and trade wars. But those issues can be resolved and go away just as quickly as they popped up.
Whatever does happen, with so many indicators showing a slowing economy, it's time to think defensive. But rather than give in to fear, consider recession-proof companies instead.
Specifically, we're looking for companies whose performance may not be exciting during a bull market, but, over the course of a bear market, are likely to trade flat at worst, or even rally as the economy resets.
Recession-Proof Pick #1: McDonald's (MCD)
Shares of fast-food giant McDonald's (MCD) recently sunk to four-month lows after the company missed its earnings expectations for the third quarter. Astute investors know this time of short-term fear is the perfect time to invest.
That's because the company was just one of two firms in the Dow Jones Index to show a gain in 2008. When the economy tanked, high-end restaurant chains ended up on the brink of bankruptcy as consumers cut back. But no matter how much you cut back, fast food will always be there—and McDonald's dominates the industry with no change of that status in sight.
It's likely to do so the next time the economy slows down as well and consumers become more price conscious. And while the company did recently miss on earnings, they still grew same-store sales by over 5 percent, a huge accomplishment for such a large company to begin with!
Shares of McDonald's are a recession-proof buy up to $205.00.
Recession-Proof Pick #2: Wal-Mart (WMT)
The other Dow Jones Index stock to show a gain in 2008 is everyday low price retailer Wal-Mart (WMT). The company dominates the world by sales, and strives to keep its prices down. That means it tends to gain market share when the economy is bad.
Of course, with the economy still in good shape… folks are still shopping at Wal-Mart. And the company has been expanding its online presence to a point where it's starting to grow market share at the expense of firms like Amazon in the areas where they overlap… including using the company's network of physical stores to offer next-day delivery.
Although the company's rapid growth space is behind it, expanding its online presence can greatly improve its profit margins, making for decent returns, even when the economy goes south. Shares are a buy up to $122.00.
Recession-Proof Pick #3: Procter & Gamble (PG)
A consumer goods giant making everything from shampoo and razors to vitamins and laundry detergent, it would be nearly impossible to find a home that wasn't stocked with at least some good from Procter & Gamble (PG).
Consumer goods are an excellent recession-resistant play thanks to their inelastic demand—the economy would have to get pretty bad before people cut back on soap. That kind of demand may mean that the company looks like its best days are already behind it, but looking forward to a slowing economy, shares can likely move higher as growth stocks crumble and consumer giants hold their own.
The company's push to international markets has been stalled with recent trade issues, and there's some future growth prospects there that make this an interesting recession-safety play with a future growth catalyst to move things higher.
Shares of P&G are a buy up to $125.00.
Final Thoughts:
Each of these companies has held up well during prior recessions, and should likely do so in the next one. While each recession is different, each of these companies is an industry leader with the size to make it through tough times. And each company has a strong advantage over competitors, whether in the form of a brand or being the lowest-cost provider.
As a result, these companies are rarely value plays, and investors will have to pay up. But over time, they'll do fine as these firms pay out rising dividends over time. That's why recession-resistant stocks will also likely match up nicely with stocks you want to own for a decade or more!
These are the elements that are common across industries to make for great investments—in both good times and bad.