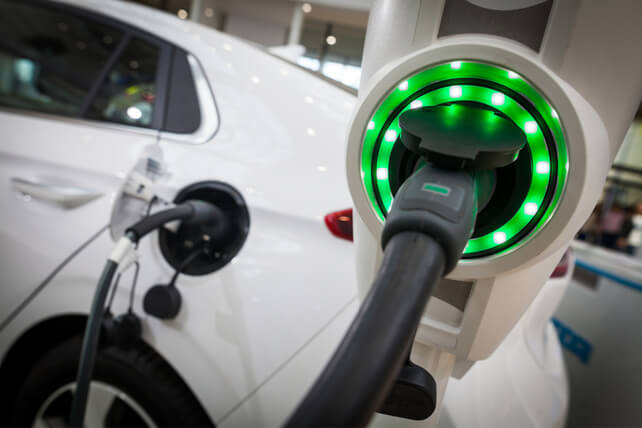 There are a number of megatrends sweeping the world right now. One of them could lead to a $30 trillion global industry by the end of the decade. It's an industry that was just in its infancy a decade ago, but is just now starting to ramp up the traditional S-curve of the business model that can lead to the biggest profits.
Best of all, while it's been led by the private sector, government funding is pouring into the space as well.
One bill under consideration in the US alone could provide an additional $174 billion in funding over the next few years to help this sector grow even more.
The trend? Electric vehicles, or EVs.
Electric vehicles emit no emissions, making them capable of reducing the carbon footprint of mankind. And the electric vehicles of the past decade have managed to double their range per charge, without rising in price for customers.
Promising improvements in battery technology and charging station times can change EVs from relatively short-trips to vehicles capable of longer-travel.
And electric trains, helicopters, long-haul and short-haul trucks, and even electric planes are under development.
While it may seem like there's an electric car on every block so far, only a handful of vehicle sales today are EVs, compared to traditional gas cars or hybrids. By 2040, however, the trend is likely to be 80 percent of vehicles sold in Japan, 75 percent in the US, and 68 percent in China.
Europe is leading the way, with legislation mandating zero-emission cars by 2035.
The end of the decade will likely only see the current single-digit market share rise to perhaps as much as 20 percent.
That's creating a number of opportunities, from automakers to parts suppliers and mining operations for rare earth metals to an improved electrical grid and battery technology for powering these vehicles.
Where are the biggest opportunities today? A recent report from Goldman Sachs (GS) suggests looking at the automakers themselves.
The investment bank's top-rated EV stock, Tesla Motors (TSLA) reports earnings today. Shares are around $650, but the company sees a 12-month price target of $860, near where shares peaked at the start of the year before trading sideways in recent months. That's a potential 32 percent return.
Other big potential winners include BYD (BYD), a Chinese electric vehicle company that is the #1 EV manufacturer and #2 battery manufacturing company by volume. Goldman has a price target as much as 47 percent higher in the next year, although the Chinese market could add some volatility to shares there.
Finally, for the European market, Goldman sees Volkswagen Group (VWAGY) as a top player there, with a potential for 42 percent upside in the next year. The company's increased EV production and partnerships with other players in the industry make it a potential winner in the years ahead, not just in the next year.
Of course, those are just the top 3 names on Goldman's list.
Other companies include key automakers, including Daimler (DMLRY), another European player. General Motors (GM) in the United States and Honda Motor Company (HMC) out of Japan round out the automakers best poised to benefit from EV trends.
For battery makers, Goldman gives the nod to Korean giant Samsung SDI (006400.KS). Battery component manufacturer Umicore (UMICY) out of Germany also looks like a potential winner from this trend, as does Japan's Nippon Carbon (NCRBF).
Action to take: Tesla Motors looks overdue to break out of its range, and is likely to head higher. That trends well for a shorter-term trade. As the largest automaker in the EV space by market cap, investors will likely get better percentage returns in a smaller player if they're looking out over the course of several years, however.
Volkswagen Group looks attractive for its growing EV business, and its better valuation than Tesla right now. It's also a major investor in QuantumScape (QS), a company that can potentially create some major innovations in battery technology. Owning Volkswagen ensures that if QuantumScape's technology isn't as good as it appears, investors will still be positioned to win from the longer-term trends in EVs.
Of course, any of these massive global players are likely to grow with the rise of the EV market over the next decade. Investors may want to start getting into this trend now, then watch for discounts in these companies to add for a long-term stake.
The wonderful thing about this megatrend is the sheer number of ways to play it, above and beyond the automakers themselves. Commodity investors may like a lithium mining play, or tech investors may want to look into lidar or battery technology stocks and go beyond the major automakers.
But the important thing for a megatrend is that you play it to begin with!
Disclosure: The author of this article has no current position in any of the companies mentioned here, but may trade after the next 72 hours. The author receives no compensation from any of the companies mentioned in this article.