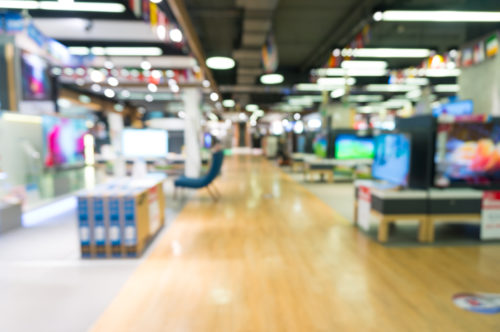 Three companies for your investment shopping list this holiday season.
The holiday season is in full swing—at least, at any retail store, where halls are already bedecked with the gifts and décor covering Halloween, Thanksgiving, Hanukah, and Christmas.
While it seems a little early, one well-known fact about retail is that most places operate at break-even or even a loss for most of the year. It's the holiday season, that last six weeks of the year, which puts these operations in the green for all 52-weeks.
So it's easy to understand the push by retail companies to get spending going on all the end-year holidays as soon as possible.
Most investors can play this holiday spending trend with just three companies. Each operates in a different way, but tends to provide investors with seasonal good cheer as shoppers stock up their carts. Let's look at each, from the highest to lowest capital gain potential from a good holiday season:
Special:
The Top 5G Stocks to Buy Now
Company #1: Amazon (AMZN)
As the world's largest online retailer, it's no surprise that Amazon tends to be one of the holiday season's biggest winners. While some see the company as monopolizing the online retail space, the company has about 37 percent of all online retail traffic—and has faced stiff competition in recent years from brick-and-mortar retailers who have expanded their operations.
But with easy one-click shopping, free shipping, and high-satisfaction customer service, it's clear to see that the retailer is here to stay. Over the past few holiday seasons, the company has managed to push its percentage of holiday sales even higher.
Shares of Amazon currently trade just under $1,750. They're a buy up to that price—even if you can only pick up one or two shares. With a 52-week high of just over $2,000, and with a good chance of shares running that high on a great holiday season, investors could book a 14 percent return in the next few months.
Company #2: Target (TGT)
Target stores, best known for their moderate-end, "cheap chic" goods, has also increased its market share in the past few holiday seasons. This year, the company may outdo itself for another reason: Target has partnered with the owners of the now-bankrupt Toys R Us brand to launch a new website to sell toys.
The timing couldn't be better ahead of the holiday season, and toy sales could put Target over the top, especially with its ability to sell online, but allow buyers to pick up same-day at a store location.
Target shares appear a bit pricey, as they trade near all-time highs of $111. But buying shares under $110 will give investors a 2.4 percent dividend yield that they won't get with Amazon. With shares trading at 18 times earnings, they're fairly valued compared to the overall stock market and still have room to head higher through the end of the year.
Company #3: Wal-Mart (WMT)
Although Wal-Mart tends to cater to lower-cost items, the company makes up for it on the volume. Long the global leader in total sales, the retail giant derives massive revenues from holiday sales, and like Target and Amazon, the company continues to increase its market share during the holidays.
The company also offers layaway plans, allowing lower-income families to budget for items that they wouldn't be able to otherwise get from competitors.
Wal-Mart shares are likewise right near all-time highs of $120, and with shares trading at 27 times earnings, this is one play where investors might want to make a small buy now, rather than buy a full-sized position in shares.
A price at or under $105 per share will provide a better margin of safety, and a dividend yield of just over 2 percent, but given the company's run higher this year, that kind of a pullback may not be in the cards. Wal-Mart is a great retail holding throughout the year, not just during the holiday season, and the company tends to fare well during recessions.
Take Advantage of the Retail Swing
Retail stocks can fluctuate throughout the year, but tend to do well during the last six weeks of the year as a series of holidays and spending close out the calendar.
While Amazon, Target, and Wal-Mart are massive companies, they benefit from this trend as well. The past few years have shown that these companies continue to pick up minute amounts of market share each holiday season, and it's likely that this year will be no different. Owning any of these three—or all three—will likely play to this short-term trend, but all these companies have some long-term potential as well.