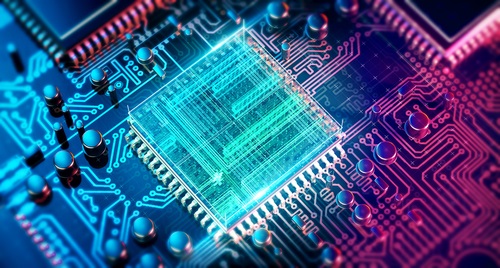 Trade war resolution could cause these companies to rally.
While the overall stock market may be making a run to a new all-time high, this time is different. Companies that helped fuel the market rally and send stocks higher in 2016, 2017 and 2018 are largely absent from the leaderboard this time around.
Most of these companies are in the tech space, and some of the biggest laggards have been in the semiconductor space. They make the chips and circuit boards that power today's technology.
With fears of an economic slowdown from the trade war with China, these companies have seen their share prices take a dive in the past two years. With most of the space now starting to move higher, and with a potential trade deal on the horizon, this is one area that could give investors the best returns for their capital in the next few months.
While an investor could just buy one semiconductor company or one of the few funds out there, there are some great companies worth owning beyond a mere event-driven rally at today's prices. With the sector expected to grow at over 20 percent per year over the next few years, it's one area investors won't want to miss.
Semiconductor Stock #1: Lam Research (LRCX).
Lam Research is a versatile company that produces wafer fabrication equipment and services. Essentially, they're the supplier to the semiconductor industry as a whole, as nearly every chip made in the industry uses some piece of Lam technology to get manufactured.
That makes the company an obvious play on the sector. In any sector, it's usually the suppliers who end up with the safest and most consistent profits at the end, like shops that sold pans and pickaxes during a gold rush.
That's also why this company has bucked the industry trend and is trading near its highs—but it's trading at a valuation that could definitely send it higher.
Shares of the growth company trade at a value level of just 18 times earnings. And today's investors can still get a dividend yield of 1.9 percent. While some tech companies pay higher yields, many don't pay at all, so investors can still get a growth name with some income on the side.
Shares of Lam Research are a buy up to $250.
Semiconductor Stock #2: Micron Technology (MU).
Micron is a more traditional semiconductor play, yet despite all the fear about an economic slowdown, the company has been performing great.
It's beaten earnings each of the last four quarters, however, shares keep taking a hit as company management has had to warn on all the uncertainties out there. While that's disappointing for the share price in the short term, management's candor is appreciated and a key driver of the company's long-term success. With the resolution of some of those issues, shares are likely to break higher.
The company is tremendously undervalued at just 5 times earnings. While it doesn't pay a dividend, the volatility in shares offers investors the opportunity to make options trades as well that can profit from each swing. A March 2020 $50 call option could give traders one of their best returns if a trade deal gets signed and the semiconductor space takes off.
Shares of Micron are otherwise a buy up to $47.00.
Semiconductor Stock #3: Applied Materials (AMAT).
With a play on both semiconductors and the display industry, Applied Materials splits the difference between the valuation of Micron and the dividend of Lam Research. Shares trade around 15 times earnings, and yield 1.6 percent.
It's a company that benefits not only from the interior semiconductor technology needed in today's gadgets, but also in the screens and interfaces that are also needed to make the technology as a whole.
The company also has more cash than debt on its books, making for a great balance sheet. Investors concerned about an economic contraction want to focus on companies that can pay down—or off—their debt with what they have on hand in the event of earnings slowing down. This is a pick suited for a more defensively-oriented investor.
Shares of Applied Materials are a buy up to $53.50.
Final Thoughts
While there are plenty of undervalued and unloved plays in the semiconductor space, these three companies are best positioned for the sector as a whole. Two pay dividends, giving investors a chance to get an income from what's typically a more growth-oriented sector. With the number of new technologies constantly in development, it's a space likely to continue growing no matter what the global economy does.