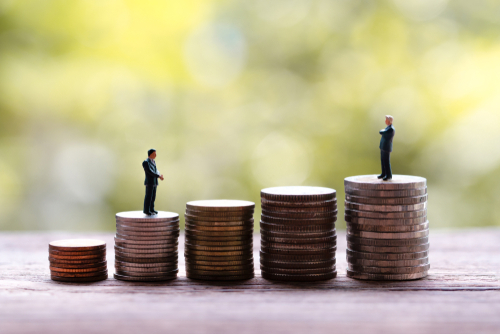 These companies can deliver growth and higher income in the year ahead.
A new year can mean a lot of things. For most investors, it's a chance to re-focus on the fundamentals. That means buying companies trading at a reasonable valuation… and ones that also pay a decent (and growing) dividend.
The logic is simple.
Buying cheap companies avoids getting into overbought companies where the only hope to profit is a higher share price. And income is both appreciated as a cash-generator, and for its lower tax rate than short-term capital gains.
After a great year in the market that saw many blue-chip names soar, it may seem like there are but a few values left on the market. But that's wrong. Plenty of companies didn't go along for the market's steep gain in 2019. These are just two.
Special:
The Top 5G Stocks to Buy Now
Cheap, High-Yielder #1: Royal Dutch Shell (RDS-A)
Shares of this Anglo/Dutch energy giant gained a mere 0.7 percent in 2019. That's quite a poor showing, especially as oil itself managed to perform better last year, albeit with a rally in the early start of the year that then fizzled out.
This poor performance is reflected in the company's operational performance. Revenue growth slid by nearly 14 percent. Earnings, aided by some cuts and efficiency improvements, gained just under 1 percent.
Outside the balance sheet, Royal Dutch Shell has been taking advantage of inexpensive energy prices to increase its reserves. Most other majors haven't been making these reserve increases in the past few years, and a spike in energy prices could leave RDS with some large gains on its books relative to competitors.
Looking forward, however, we see a high-yielding play that's cheap. Even with the company's poor performance, and low expectations going into 2020, shares trade at just 10 times earnings. For most commodity players, that's a good deal. For one of the major global energy names that's been increasing its reserves? That's a bargain.
The company's dividend last year topped $3.76, or just over 6.4 percent. With that kind of return, an underperforming share price can still provide long-term returns to investors, or simply provide current income now.
We like shares up to $60. In the past year, they've struggled to stay under $55, so bargain-hunters could try to set a limit order at or under $55 to get the best price possible.
As we don't see a huge move higher in shares in the early part of 2020, most options trades don't make sense here. But investors looking to get paid to get into shares a little more cheaply could sell a put option—essentially taking on the risk of buying shares if they drop from here.
Selling to open the April 2020 $55 put will immediately put about $160 per contract into your account. If shares muddle along here, you won't have to fork up $5,500 to buy 100 shares. If shares are under $55, you also keep the $1.60, essentially putting you in at a multi-year low of $53.40.
Cheap, High-Yielder #2: CenturyLink (CTL)
This internet and telecom service provider lagged the sector and the overall market, with a 13 percent drop in the past year. Fortunately, that was somewhat offset by a 7.5 percent dividend yield, even after the company cut its dividend payout.
While the company had a tough year, it did manage to grow earnings by 11 percent, even as its total revenues slid by 3 percent. That shows a company working towards being more efficient and being able to do more with slightly less, and its shares have already moved off of panic lows earlier in the year.
That lackluster year is also reflected in the company's valuation. Shares trade at less than 10 times earnings, the company trades for less than its annual sales, and shares trade close to book value.
All these metrics point to an undervalued company, and the company's high dividend points to an opportunity to get paid to wait for the market to re-evaluate shares as it looks for bargains this year.
Although the telecom space isn't the most exciting space to be in, after an exciting year in the market, it's the kind of place where low expectations can provide great results for investors who want the best opportunities.
We like shares under $14. We don't see a huge move upwards right away, but with that large dividend, shares don't have to go too much higher to provide a solid total return on any one-year basis.
That low expectation for a rally also means most options trades aren't attractive. But potential buyers could sell the April 2020 $13 put option, close to where shares trade now, and get an extra $1.00, or $100 per contract, for their trouble. If shares are under $13 in April, the option will be exercised but the put seller will have a cost basis of $12 thanks to the $13 strike and the $1.00 in premium received.