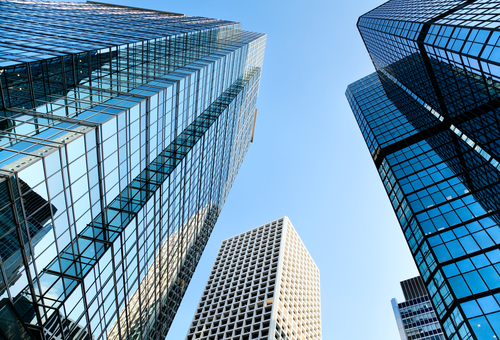 Earnings for the big banks are already out, and two buys have emerged.
It may feel like an early start to earnings season, but a number of companies are already reporting for the final quarter of 2019.
This week has seen most of the big, mega-banks report their earnings. So far, the numbers have been pretty good on average, with most banks beating expectations.
But thanks to other developments, two mega-banks look like solid buys now, for reasons that go beyond the latest earnings headlines.
Mega Bank Buy #1: Bank of America (BAC)
When the bank reported earnings, shares declined, shedding over 2 percent. But that's in spite of a headline earnings per share that was 6 percent higher than expected.
The issue came with total profit, which, at $7 billion, represented a 4 percent drop from the prior year. Revenue was also off 1 percent from the final quarter of 2018, at only $22.5 billion.
However, there are some bright spots to that report. An increase in trading revenue allowed the bank to make up for what was expected to be a bigger gap compared to last year. Even with a decline in interest rates in 2019 that should have weighed further on earnings, the bank was able to make up the shortfall with trading profits from its bond desk.
Even better, Bank of America was the second-largest buyer of its own shares last year, a distant second to tech giant Apple. This large share buyback reduced the problems on a per-share basis, and a continued buyback will allow the company to continue increasing earnings per share, even if the overall business stays flat.
But not all is flat or even slightly declining with the company. The bank's global markets business reported a 14 percent increase in earnings. As the second-largest bank behind JPMorgan Chase, international business is an area where the bank can continue to grow at a larger pace than in other banking endeavors.
With things looking slightly better than expected behind the quarterly earnings numbers, Bank of America looks like one of the more attractive names in the banking space, even as some traders have been burned trying to bet against it.
Shares are a buy up to $35, where the company still trades under 12 times forward earnings, and at a dividend yield right around 2 percent.
Given the potential impact of the company's long-term share buyback, speculators should look at the January 2021 $35 call. Trading for around $3.00, or $300 per contract, it's near-the-money, but should move in-the-money if the company's shares continue to head higher in 2020. A move to $40 by next year would move the option to $5, or a 66 percent return on the option.
Mega Bank Buy #2: Wells Fargo (WFC)
Shares of America's fourth-largest bank had a huge two-day selloff following earnings, with a decline around 7 percent.
That's the worst performance out of all the mega banks, but behind that company's earnings numbers are a number of one-time events unlikely to weigh on shares in the future.
Quarterly profit at the bank dropped more than 50 percent compared to the year prior, with just $2.87 billion in revenue against $6.06 the year before.
As with the other banks, lower interest rates in total weighed on income and earnings. But Wells Fargo booked a $1.5 billion charge for legal costs related to litigation for the fake account scandal that first broke in 2016. The costs from this drove up expenses and weighed down profits.
Another result of that litigation was the company's decision to sack its CEO and incorporate a new one, who just faced his first full quarter at the helm.
These factors have created uncertainty, and over the past year, Wells Fargo shares are up less than 8 percent compared to 30-40 percent gains for most of the other mega-banks.
We see a buying opportunity whenever an out-of-favor company is getting hit for issues that have already been known to the markets for some time, and see some value here. Wells Fargo trades at just 10 times forward earnings.
We like shares up to $50, and today's investors can also get a huge 4.1 percent yield here.
Shares are likely to at least re-test their old 52-week high near $55 in the next year, so speculators should consider the January 2021 $55 call. Trading for around $1.10, or $110 per contract, it's an inexpensive bet that the bank can play catch up this year, and that earnings will rebound with the big one-time litigation costs out of the way.