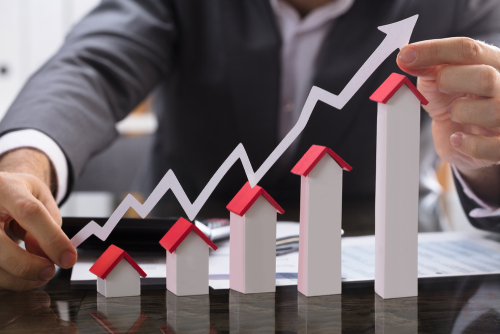 Go off the beaten path for income and growth potential with these names.
Most investors in real estate investment trusts (REITs) are pretty much just in it for the cash flow.
That's a fine way to invest, as the space provides steady and sizeable sources of income.
But with a little work, investors can find great companies to buy in the space that also play to long-term growth trends. That ensures that the income they're getting today can go even higher in the future.
Even better, combining these names with periodic fears in real estate and other credit-market sensitive sectors can be used to get even better timing, and with it, returns.
Special:
The Top 5G Stocks to Buy Now
But there are plenty of well-known areas to invest in in the world of REITs, so today we'll look at two more off-the-radar names that can provide income and growth as well.
Real Estate Play #1: LTC Properties (LTC)
This company is part of a growing trend: The aging of America. And our aging population has a higher need for long-term care facilities as a result.
That's where companies like LTC Properties come into play. Unlike players that have to deal with the direct operating costs of senior housing and healthcare properties, however, LTC holds mortgages, joint-ventures, and sale-leasebacks to keep its profits and operating margins high.
The company has investments in over 200 properties in 28 states, and works with 30 operating partners to do so. And they've balanced their holdings evenly between senior housing and skilled nursing properties. That's allowed them to generate a 55 percent profit margin.
While not the most exciting space—shares are up just 7 percent in the past year—the company does pay a 4.8 percent dividend at current prices. With the longer-term demographics still at play for this space, it's a name that could see slow and steady growth as well in the years ahead. While earnings slid in the past year, revenue did rise 12 percent.
Shares of LTC Properties are a buy up to $48.50. The combination of valuation and yield is good here, and the REIT has a beta of 0.3, or about 30 percent that of the overall market. All these factors add up to a good investment for shareholders who want to sleep well at night.
While there are some options trades for speculators, the low beta and slow-moving nature of REITS in general doesn't make any of them attractive right now. When credit fears hit the market, however, buying call options as those fears start to wane can make a good trade… but we're not there yet.
Real Estate Play #2: Innovative Industrial Properties (IIPR)
A relatively new player as a REIT—it just elected to become one in 2017—this company is focused on the acquisition, ownership, and management of properties for regulated medical-use cannabis facilities.
That's right, it's a REIT with an exposure to the medical marijuana space.
That's created one of the most volatile names in REITs. Shares currently trade for just under $75. That's about a 50 percent haircut from the company's peak price near $140. But with shares trading as low as $42, it's still a good gain. In the past year, shares are up 44 percent, and there's clearly a lot of potential moves to go.
The REIT is on a growth kick, with earnings growth of 256 percent, revenue growth of 194 percent, and fat profit margins of 51.1 percent as it continues to acquire properties.
And, if you can stomach the volatility in this REIT, there's about a 4.3 percent dividend yield here.
As far as long-term plays in the medical marijuana space go, this is a better bet relative to any one producer or manufacturer of products. There's a lot of competition there, and as long as there's competition, these firms will need space to operate. This is a great way to play the tends in the sector.
We like shares up to $75, but do expect pullbacks into the $50's at some point, given the ebbs and flows of the space. Investors should start to build a position now, but leave some cash on hand to buy more during a pullback.
While REITs are usually too slow-moving and high-yielding to justify options trades, this one isn't.
Speculators betting on an upside may like the July 2020 $100 call, trading for around $2.85, or $285 per contract. On a swing back up over triple digits, this option could soar. And, of course, speculators thinking that the sector is on the downswing can play that with put options on this company as well, making a profit from both sides of the trade.