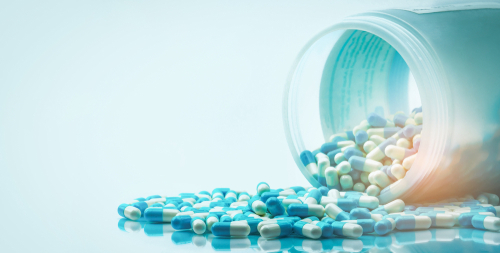 These two companies can offer income, growth, and a rebounding share price next year.
Investing often comes down to buying assets that are out of favor with the market right now. While it's mentally tough to go against the crowd, buying unloved assets ensures you're getting a good value.
What's more, assets that are out of favor with the market tend to move in favor over time. This constant rotation ensures that investors can always make money, no matter what the market is doing.
One unloved sector right now is healthcare.
In everything from health insurance to biotech stocks, there are plenty of opportunities capable of making a profit now. Looking at the sector as a whole, two pharma plays look like attractive buys going into 2020.
Pharma Play #1: AbbVie (ABBV)
With low expectations in the healthcare space, AbbVie forged forward in the third quarter with a 3 percent increase in revenue and a 9.6 percent increase in earnings.
Shares of the company have started moving up after being out of favor earlier in the year, and with the added weight of the company's potential merger with Allergan, which would diversify its existing pipeline of existing and future pharmaceuticals.
Even with the recent rally, shares are down 5 percent in the past year, far underperforming the overall market. But trading at 9 times forward earnings, and with bigger growth potential from the Allergan merger, which looks increasingly likely, the company can give investors a market-beating return in 2020.
What's more, the company is a dividend dynamo, with a current dividend yield close to 5.5 percent. At that price, investors can comfortably wait for the bigger, stronger company to see faster earnings growth propel shares higher.
Shares are a buy up to $90, where the high dividend is a great fit for conservative investors. Given the performance of shares in the past few years, and the slow movement of shares when they get into the $90 range, investors may also want to buy shares now, and increase their income by selling a covered call (1 for every 100 shares) with a $90 strike price, looking to get a little extra income on the trade to start before it heads higher.
For speculators, the May 2020 $90 calls are close to the money and can provide a potential 250 percent return if shares get back to the $100 mark, still well below its last price peak.
Pharma Play #2: Gilead Sciences (GILD)
A pharma play in the biotech space, Gilead Sciences has a lower income than AbbVie, but has more upside potential. That's because Gilead focuses on medicines that are considered "unmet" by other pharma providers, giving it a niche in most of the successful drugs it develops.
The company has been working primarily on products for treating liver diseases and HIV, as well as fungal infections and other products, working in collaboration with numerous other pharmaceutical firms.
Even though the company has a bit of debt, its cash position is just about equal to all its debt, putting it in a place where it can continue to make strategic acquisitions without significantly leveraging up its balance sheet.
As with AbbVie, shares of Gilead are just slightly down in the past year, missing out on 2019's stellar rally for most stocks. However, with a profit margin of 12 percent, things aren't dire and there's ample room for improvement as the company makes acquisitions and brings new drugs online.
Shares of the company have largely bounced around between $60 and $70 in the past year. They're a buy up to $67.50 per share, where they yield a solid 3.8 percent. At that price, they're about half the peak price shares traded at in 2015, when they topped $120 per share.
Given the range-bound nature of shares right now, speculators can make a few interesting trades. They could sell put options with a strike price in the low $60 range, hoping to pick up shares at that price while getting paid to wait to do so. Or they could buy put options when shares get up to the $70 range, trying to profit from a short-term pullback.
Investors could also buy shares now, sell call options with a $70 strike, and easily more than double their income. This buy-write strategy may work for a few months, but if the company's fundamentals start to move higher, the share price should too, so investors using this covered call strategy may miss out on some potential gains down the road.