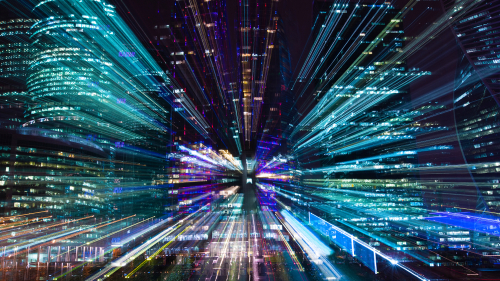 These fast-growing companies could shake off the low-growth fears in tech and head higher.
All sectors of the market go in and out of favor. For the past few years, however, the usually high-flying technology names have stalled. That's likely due to fears of a slowing economy and the trade war issue that seems to be holding things back.
While that's given value investments some time to shine, nothing lasts forever, and a number of fast-growing tech companies could beat the slow tech trend and head higher to close out the year.
We've identified two companies that should continue to rally going into the end of the year—and into 2020. One is a play on a huge, growing core business that is being overlooked by some negative news from side projects. The other is a non-traditional tech play that's ripe for a rally after a roller-coaster ride this year.
Late 2019 Tech Play #1: Facebook (FB)
Special:
The Time to Invest in 5G Is NOW!
The social media giant has had a tough few years. Last year, the company had a very large, very public crisis with how it handles personal data. So far this year, Facebook has focused on improving those concerns, but also with developing its own cryptocurrency, Libra.
So far, early indications are that the cryptocurrency won't work out. Many of the partners with Facebook have backed out of the group, leaving the company somewhat hanging on that front.
But behind that bad news? The core business of generating ad revenue from millions of eyeballs scanning their Facebook page. That trend isn't going away—in fact, the company, which once struggled with profitability, is only behind Google for grabbing internet ad revenue.
Earnings are growing over 23 percent per year, yet shares are down to just 20 times forward earnings. That's a great value relative to the growth prospects of the company. And with Facebook grabbing a huge percentage of online ad revenue, it's still going to be a dominating player in the space for years to come.
Side projects like Libra won't make much of a dent if they fail, but could improve things substantially if they succeed. That's the kind of asymmetrical return that could reward investors. With the negative news surrounding shares, any decline in negative news, or even some positive developments, could end up moving shares far higher in the years to come. For the time being, shares will likely push higher going into the end of the year.
Share of the company are a buy up to $195. Speculators may want to consider the June 2020 $210 calls, where they could profit if shares make a run to new all-time highs in the coming months.
Late 2019 Tech Play #2: Beyond Meat (BYND)
Plant-based meat alternatives have come onto the radar in a big way in the past year, and a number of companies going public at the start of this year have led to a mini-bubble in the space that has now burst.
Among the top players in the industry, Beyond Meat (BYND) looks like a top buy here. From its IPO around $45, shares quickly soared to $60 on the first day of trading—then ended up more than tripling from there to over $200 per share. Since then, shares have started to come back down to earth, and in the past few weeks the price has started to stabilize, with shares now in the low $80 range.
The company is now past its IPO lockout phase, where insiders can sell shares. Since that happened in late October, a number of insiders have done so, but the share price movement since then suggests that the selling isn't extreme enough to push shares even lower—and that even with insiders now able to cash out of their holdings, the company has some bright days ahead.
Although the company is hard to think of as a traditional tech play, the fact of the matter is that the rise of plant-based meat alternatives that have similar taste and texture to the real thing is an area that investors are attracted to. And with the environmental friendliness factor, it's an area that will continue to see investors growth. It's no surprise that with Beyond Meat's share decline, the company is still rapidly growing, with sales up over 250 percent in the past quarter.
Shares of the company are a buy up to $85, with the expectation of getting into the high-$90 or low $100 range by year-end as investors start to pile into one of the few winning IPOs of the year. Speculators should look at the May 2020 $100 call for a leveraged way to play that trend.