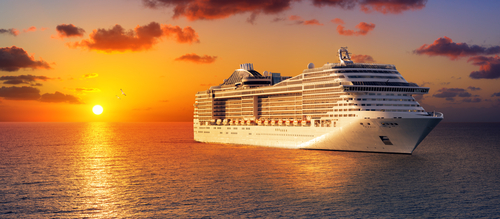 Bet on drop in the next week.
Special:
2,164% from AI Stock in a... Month?
Put options expiring on December 6th with a $117 strike on Royal Caribbean Cruises (RCL) saw an 89-fold surge in volume recently, going from 131 open contracts to over 11,675 contracts trade.
The option, expiring in nine days, will likely expire worthless unless shares drop from their current price just under $120, about a 4 percent move in-the-money.
At a cost of just $1.00, or $100 per contract, however, it's an inexpensive bet on a drop.
The $1.00 price also means shares will need to drop to at least $116 for the put buyer to make a profit at expiration.
Action to take: It's hard to bet against shares here, given relative valuation in the industry as a whole. It could be that this high-volume options trade is a hedge against a long position rather than a drop.
Shares of Royal Caribbean have under-performed the market by about 10 percent in the past year, but shares trade at just 11 times forward earnings and the cruise line makes a healthy profit margin right now. Investors interested in the space could buy shares up to $120 and lock in a 2.6 percent dividend.
Speculators would be better off buying a call option on shares instead, to bet on a continued move higher to catch up with the market. The June 2020 $120 call options, right at-the-money, should move dollar-for-dollar higher with shares, less the loss of any time premium.