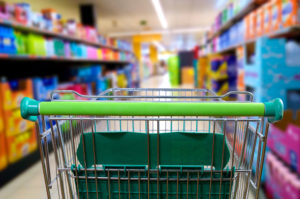 On Wednesday, there were only 26 stocks that ended in the green. This is the kind of day that looking for any similarities among the "green" stocks can tell a story. Sometimes it doesn't, but on Wednesday it did. There are couple of things that makes April 1 significant. One, it was a day where the S&P 500 dropped 4.5% and the other is that it's the first day of the quarter. Of the 26 stocks that finishes higher, five of them were stores.
In the era of only "essential services" being open for the foreseeable future, it makes it difficult to value most companies that have indefinite closures. While the full impact of the path we're going down is still uncertain, information from Kroger Co (KR) was encouraging for grocery and discount stores. The companies on the list aren't all grocery stores, in fact, all of them are discount stores. However, they all offer products that were typically in high demand over the past month.
Let's take a closer look at five discount and grocery stores that finished higher on Wednesday.
Green Stock #1: Kroger Co (KO)
The catalyst for the broad-based movement in all of these stocks was likely the 10-K for KR. What is a 10-K you ask, here's a definition from Investopedia:
Special:
The Top 5G Stocks to Buy Now
"A 10-K is a comprehensive report filed annually by a publicly-traded company about its financial performance and is required by the U.S. Securities and Exchange Commission (SEC). The report contains much more detail than a company's annual report, which is sent to its shareholders before an annual meeting to elect company directors."
The good news from the report is that after seeing strong sales in February, the trend continued through March through the physical and online channels. This was encouraging as some uncertainty is now less, well, uncertain.
The near-term target for KR is near the March high at $36.
Green Stock #2: Walmart Inc (WMT)
How could this list not have WMT? Like KR, WMT is a consumer defensive sector company that has similarly seen a sharp increase in traffic over the past month. While there is some indications of a slower pace last week in many of these stores, they haven't suffered significantly through the COVID-19 closures.
Ethan Chernofsky, vice president of marketing for Placer.ai, commented on the slowing:
"The positive here is that the data indicates that as the situation improves, and doesn't worsen, consumer behavior tends to return to more normal patterns," Chernofsky wrote.
"Should this trend hold, it's a very strong endorsement for those who believe that wider retail activity could quickly return to previous levels should the preventative measures being enacted serve their ultimate goal."
The near-term target for WMT is $125.
Green Stock #3: Target Corp (TGT)
While TGT is on this list, there is more risk associated with this one. Part of the reason is that TGT isn't as focused on the discount part of the business as other companies and they are heavily focused on apparel. That was a decision that was made several years ago, and many of the store have added more of a focal point on that business. That is likely the reason why the company hasn't been able to keep up with WMT throughout this crisis. However, that may mean they have more upside as things normalize.
Another consideration is that TGT has more exposure where the virus is the most impactful. For example, New York has been hit harder than Arizona.
The near-term target for TGT is $110.
Green Stock #4: Costco Wholesale Corp (COST)
How could COST be left off the list being one of the preeminent discount stores in the world? While many companies are laying off employees and last week's unemployment claims spiked to a record, there is evidence that the stocks on this list are hiring. While COST didn't confirm to Kiplinger that they were hiring, they did share information from a local NBC affiliate that suggest that local stores were hiring in Woodland Hills, CA. That was part of many local reports that showed the same thing.
The near-term target for COST is $320.
Green Stock #5: Dollar General Corp (DG)
On Wednesday, DG was initiated as a buy at Citigroup by their analyst Paul Lejuez. In a report by CNBC, Lejuez said that DG has a "proven to have a consistent model through good times and bad, and it seems that all of their initiatives are working, which should lead to continued market share gains." This is a reflection of the company and its position as a defensive play in a very uncertain world.
The near-term target for DG is $34.