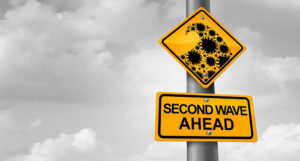 There are a few industries that are in an impossible situation in the current environment with increasing COVID-19 cases and, more importantly, a desire to increase restrictions. Its restrictions set by governors that have placed a lot of uncertainty for cruise lines, theme parks, and airlines. As cases began to fall and policy measures began to expire, many investors were encouraged, and the prices of these companies began to trade higher. As the picture gets more grim, the likelihood of erasing those moves increases almost daily.
One company that is talked about frequently in regard to policy is Carnival Corp (NYSE: CCL). Analysts are currently projecting the company will lose $5.36 per share in 2020 and lose $1.27 in 2021. In response to the surge in cases and measures being taken, those current estimates have been significantly downgraded in the last week from -$4.10 and -$0.87, respectively.
On Thursday, the option activity for both calls and puts were over 20% greater than average, with a put-to-call ratio of 0.96. The fills were split pretty evenly between the bid, ask and between the market. However, there were some sizable trades filled in one print. With about 90 minutes left in trading, an order was filled that entailed purchasing the 2 JUL 20 $16 call, selling the 10 JUL 20 $15.50 put and selling the 17 JUL 20 $16 call. The 4,250-contract call portion was part of a roll that extended the expiration two additional weeks. The 4,750-contract put was filled for $0.68 and the 17 JUL 20 $16 call was sold for net credit of $0.82 for 4,250 contracts. The net result is a trade put on for a small credit.
(ALERT) Google Just Poured $4 Billion Into THIS…

Companies all over the world are funneling as much money as they can into what Bill Gates calls, "the holy grail" of modern technology.

It's fresh out of a highly secretive lab in Boston, Massachusetts, and it's poised to make early investors billions.

It's NOT cannabis. It's NOT bitcoin, or some other blockchain-related technology. It's NOT 5G.

And it could be bigger than all of those. You could be looking down the barrel of 5,000% profits or more.
Here are links to our last two unusual option activity reports.
Options Market Taking Off Shoes and Trying on Bearish Puts: Crocs, Inc Stock (NASDAQ: CROX)
Option Traders Appear to Like ArcelorMittal SA Stock (NYSE: MT) Net Zero Plan
Action to Take: The near-term target for CCL is $11.50, which is based on the recent support from late April and early May.
Speculators may want to consider buying a 17 JUL 20 16/15 long put vertical for $0.50 or less.