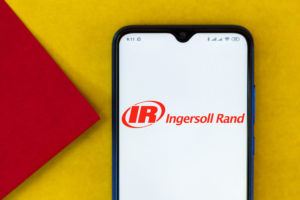 KKR Group Partnership L.P. is a global investment firm that manages assets in private equity, energy, infrastructure, real estate and credit. It also has strategic partnerships that manage hedge funds. The company specializes in investments with an "industrialist vision," which makes their recent sale of Ingersoll Rand Inc (NYSE: IR) intriguing.
Ingersoll is a global provider of flow control, compression equipment and parts for the industrial, energy and medical industries. The share price had rallied from its March low near $17.50 to over $35. The move finished its second leg following an earnings miss in the most recent quarterly earnings report. The result was a downgrade in earnings expectations on the part of analysts, but the share price rose from $25 to $35 following a brief drop after the report.
On June 16, 2020 there was an announcement of a 12.1 million common share offering that KKR was intending to sell, which was being underwritten by Goldman Sachs Group Inc (NYSE: GS) and Morgan Stanley (NYSE: MS). The sale happened at $30.40 for a total value of $367 million. The sale reduces KKR's holdings by 21.7% and is the second large sale in the last month.
Here are links to the last two insider trading reports.
The List of Insiders Selling Stock in this Online Pet Retailer Gets Longer by the Day
Special:
The Top 5G Stocks to Buy Now
CEO Buys Shares of Auto Parts Supplier
Action to Take: IR is a short opportunity with a near-term target of $24.