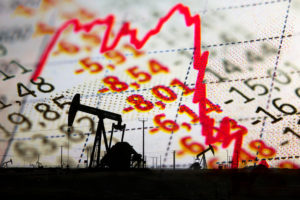 This time of year usually sees significant draws in oil inventory, but this year isn't like any other year in memory. The idea was that production cuts would occur, and demand would pick up as the economy reopened. U.S. crude production is down about 2 million barrels, but refinery demand is down nearly 3 million barrels from last year. The result? Inventories keep adding up and are now higher than its April peak and added another 1.4 million barrels this week.
An oversupply of oil will eventually lead to even further production cuts and a reduction in the number of rigs producing oil. This dynamic is especially risky for oil service companies that make their money as the number of rigs increase. Many of these companies are already in a difficult position as debt levels are highs. One company in this position is Halliburton Company (NYSE: HAL). Haliburton saw a sharp increase in debt in 2013 and increased again at the end of 2015. Over that same period cash levels have declined. The current cash-to-debt ratio is 0.20.
As the picture continues to deteriorate, option traders appear to be looking to capitalize a drop in Haliburton's share price. On Wednesday, the 17 JUL 20 $10 put option saw a 4,787-contract order get filled in one print at $0.23. This gives a breakeven of $9.77 in 23 days. Today's activity adds to previous buying activity on the same option.
Here are links to our last two unusual option activity reports.
The Apple Breakup that Everyone is Talking About has Option Bears Growling
Option Traders Use Bullish Combination to Trade Upside in Biotech
Action to Take: The near-term target for HAL is $10 with potential of a full retracement to $5.
Speculators may want to consider an 18 SEP 20 $10 put option for $1.00 or less. This would largely be a play on a bigger move but presents an opportunity to roll to a lower strike price to take profits off the table.