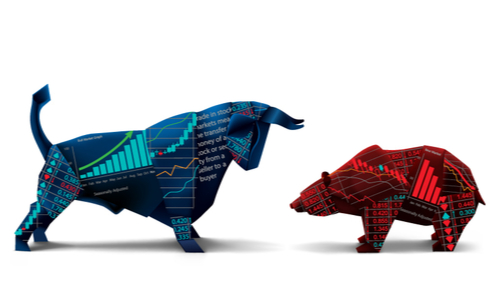 Share buybacks put a floor under shares, making for more likely profits.
Companies have a number of options for providing their shareholders with a profit from the business. While most investors focus on dividends, or cash payments from the business, many companies have embraced share buybacks as well.
The biggest reason is that it's a more tax-efficient way to boost shareholder returns relative to dividend payments. Companies can buy back shares with their post-tax profits, whereas dividends are taxed as earnings and then again at the shareholder level.
Share buybacks also allow companies to improve their earnings per share by reducing their share count, without reducing earnings.
For example, a company with $10 million in earnings and 10 million shares earns $1.00 per share. If they buy back 1 million shares and make the same earnings, their $10 million now gets divided into 9 million shares, making for earnings per share of $1.11. That means existing shareholders build a larger stake in the business automatically.
Three companies have just upped their buyback programs—and are likely to see their shares trade higher as a result. More importantly, these companies are making responsible levels of buybacks relative to their industry position. With many companies making buybacks today, often using all of their free cash flow to do so, these companies are being more strategic, and can likely beat the market going forward as a result.
Buyback Giant #1: GoDaddy (GDDY)
The hosting platform for internet sites recently reported a blowout quarter. Revenue rose 12 percent, and revenue per user rose 7.1 percent in the third quarter. With an increase in customers of 4.6 percent in the past year, the company has grown faster than the overall economy, and shows that web services are still in demand.
As a result, the company announced a plan to buy back $500 million in shares. With a market cap of just under $12 billion, the company is looking to retire 4.1 percent of outstanding shares in the next year. For investors in the industry-leading site, that can provide a number of boosts. Reduced shares will increase earnings per share, which in turn will help lower the company's price-to-earnings (PE) ratio more quickly from its current reading of 70.
Shares of the company have traded in-line with the market, rising about the same amount as the S&P 500 Index in the past year. But with its increased buyback in place, the company is likely to see its shares start to pull ahead of the market. Shares look like an attractive play on the buyback plan up to $72.50.
Buyback Giant #2: JetBlue (JBLU)
With one of the least leveraged balance sheets in the airline industry, JetBlue looks like an attractive play for investors. The industry has shifted its focus from competing with each other to trying to extract as many fees as possible from customers. Now, it's time for shareholders to benefit.
JetBlue recently announced an $800 million share buyback. Based on the company's current market capitalization of $5.6 billion, this buyback represents about a 14.2 percent reduction in shares at current prices. That's a great deal for shareholders, and one that can help the airline's shares move higher. In the past year, the company has under-performed the market by 2 percent.
With shares trading at 8 times earnings, this is a balance sheet bargain that's likely to deliver better profits to shareholders that beat the market in the year ahead. Shares are a buy up to $20.00, near their 52-week highs.
Buyback Giant #3: Toyota Motor (TM)
Leading in total dollars, Toyota Motors just announced a $1.8 billion buyback, following a strong earnings beat and quarterly forecast for global vehicle sales.
While the total dollar number is impressive, the company does have a $203 billion market cap, so they're buying back less than 1 percent of shares. However, the market still likes the move the company is making, as the company has soared after its earnings report to a 52-week high.
We like industry leaders, and automotive companies have room to head higher. More importantly, we like the future prospects of the company as it increases its investment in electric vehicles and other new technologies. The company is balancing rewarding shareholders now with buybacks against rewarding shareholders later with a large market share in the transportation of the future. That's why shares are a buy up to $150.00.