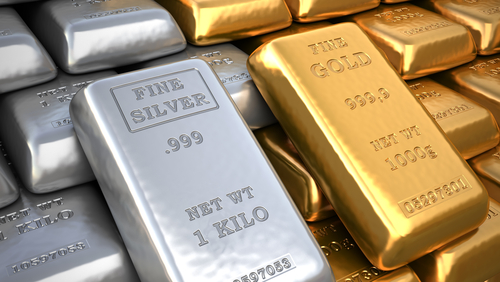 Market uncertainty and medium-term opportunity in the metal point to profits.
Since the start of 2016, gold prices have been moving upwards. It hasn't always been obvious. The metal has been prone to some sideways trends that have lasted a long time, and the price of the yellow metal will often pull back after a sharp rally.
But with a long-term trend in place, and with more money moving into the space as a result, gold prices seem apt to continue heading higher. Here are three ways you can own gold:
Disruptive Tech Could Bankrupt Big Oil

The most powerful oil companies in the world are terrified of this breakthrough and what

it's going to do to disrupt their industry. Ex-Wall Street broker says early investors could get rich.
Gold Investment #1: Physical coins and bars.
This is the simplest, least leveraged way to own gold. It's also a position you should have 5-10 percent of your overall wealth in, irrespective of market conditions.
Why? Because gold does a lot of things that traditional investments don't. Gold holds up its price during periods of fear. Gold holds out well during unexpected inflation, and doesn't get hurt too badly during some types of deflation. Gold isn't as subject to changes as bank deposits or traditional cash.
For most investors, one-ounce gold coins are a simple way to start and build a stash of physical gold. Smaller-sized coins tend to have higher premiums, making it more expensive on a per-ounce basis to start creating a stake. Top buys in the one-ounce coin space include American eagle coins, African kruggerands, and Canadian maple leaf coins. All are made by their respective country's mints, and have high purity, durability, and recognition by investors worldwide.
Investors with more wealth to set aside in the safety of gold could move to bars. A typical investment bar, at 400 ounces, comes out to over $600,000 right now. But smaller sizes, such as a kilogram, are also available.
When it comes to storing gold bars and coins, remember that the government can access safety deposit boxes under certain conditions. Your best storage is at home, a company you own, or other place where you can add a secure and hidden safe.
Gold Investment #2: Gold Mining Stocks.
This is an area that gets a bit riskier relative to just holding physical gold, but the rewards can be greater. That's because gold mining companies are a leveraged play on gold. If gold prices rise, and the mining companies don't have increases in their cost per ounce to get the metal out of the ground, these companies will see a massive increase in profits.
Interestingly, in the past few years as gold prices have started to head higher, the gold miners will catch a bid with the underlying move in gold, but will give up a lot of those profits during a subsequent sideways move for the metal itself.
That makes gold stocks a better trade to make when the metal is starting to take off. Investors just getting started should first look at some of the major companies in the space such as Newmont Gold Corp (NEM) or Barrick Gold (GOLD). A company that invests in mining operations and receives royalties, such as Royal Gold (RGLD), will have even better profit margins during a move higher for gold.
After building a stake in the big names, investors an consider smaller names. Investors should look for companies with a history of excellent finds, or companies with ongoing operations that may make for a great buyout candidate by one of the majors instead.
Gold Investment #3: Options.
Anyone expecting a short-term move in gold should absolutely consider using options trades to take advantage of that kind of move. The beauty of options trades is that traders can also make short-term bets on gold going down, without having to sell any of their physical gold holdings, or even some of their mining holdings.
For gold itself, speculators can simply trade options against the SPDR Gold Shares ETF (GLD). For a bet on the mining companies going up or down in a big way in a short time, there's the VanEck Vectors Gold Miners ETF (GDX) and the fund for junior miners, GDXJ. Owners of mining shares could also sell covered call options against their holdings, to earn extra income during a sideways or down period for the metal.
Final Thoughts:
There are plenty of ways to own gold, and investors have plenty of ways to benefit from the metal's move either way. Investors should own some physical gold as a hedge against the uncertainty of paper assets like stocks and bonds, but can also add holdings in mining companies to take advantage of other moves in the metal. And when they expect an extreme move in either direction, investors can also take advantage of the myriad of opportunities in the options market.