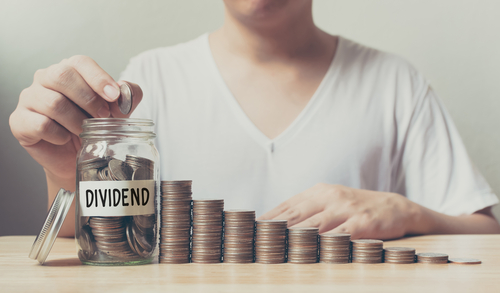 Generate monthly income with these diversified plays.
Investors may say they want growth—but there's something alluring about income. That's because, whether a stock goes up or down, getting regular cash payments from an investment shows that it's the real deal. A company can restate its earnings, and growth can fade, but once they've paid you the cash, you have it.
It's the ultimate reward for ownership, as it can be used however you wish—to spend, to buy more shares, you name it.
While most companies pay dividends quarterly, there are a few that pay monthly. More interestingly, there are a number of ETFs that play monthly, so you can get a paycheck in as often as your bills go out—but with the twist of a diversified holding. We've found three interesting ETFs that may make sense for you now.
Monthly-Paying ETF #1: Global X U.S. Preferred ETF (PFFD)
With a focus on preferred stocks, this ETF has a decent yield, but it also carries a low volatility most of the time. As most preferred stocks tend to come higher in the corporate hierarchy than common shares, they tend to hold their value even if short-term fears cause the common shares of a company to decline.
While many preferred shares are in the banking and finance sectors, there's a mix in this fund's top 10 holdings including the like of big banks like JP Morgan Chase (JPM), Wells Fargo (WFC), Bank of America (BAC) as well as real estate plays like Crown Castle International (CCI) and utilities such as Sempra Energy (SRE).
As preferred shares tend to trade around a net asset value (NAV), much like a bond's par value, so too does the fund tend to trade around a price of $25, in line with the value of its holdings. As such, we see the fund's shares as a buy at or under $25.00. At that price, investors can get a 5.5 percent annual dividend yield, and the ETF has a low 0.23 percent expense ratio.
Monthly-Paying ETF #2: GlobalX SuperDividend ETF (SDIV)
For investors looking for some of the higher risks of common stock instead of preferred shares, there are a number of ETFs with monthly payouts. For the ones most likely to stand the test of time, you'll want to find a fund like SDIV, which focuses on companies with solid dividends.
With a mix of real estate, consumer goods, and financial companies across the globe, this fund is invested in a number of names that may not even come on the radar of American investors. Top holdings include Genworth Mortgage Insurance Australia (GMA.AX), Sabra Health Care REIT (SBRA), and Super Retail Group Ltd (SUL.AX), among others.
Unlike many other funds and indices, the ETF tracks 100 equally-weighted (rather than market-cap-weighted) companies among the top dividend-paying companies in the world. This ensures that smaller players get a meaningful stake in the portfolio, and aren't under allocated simply because of their size.
With a focus on high dividends and low volatility in its holdings, it's a great way to get monthly stock exposure and a fat 9.4 percent annualized yield right now, all with a 0.6 percent expense ratio. Shares look like a great buy up to $18.00 per share.
Monthly-Paying ETF #3: GAMCO Global Gold, Natural Resources & Income Trust (GGN)
For the more speculative player anticipating higher prices for natural gas, oil, gold, and other hard assets, this ETF is loaded with top names in these sectors, and generates income from these holdings by selling covered calls against the shares that it owns.
With top holdings including big names in the energy space like Newmont Mining (NEM), ExxonMobil (XOM), and Agnico Eagle Mines (AEM), the company has a roughly 63 percent stake in mining and 36 percent in energy. With the volatility in the hard asset space, options premiums are plentiful, offering the fund the ability to pay out an annual dividend of $0.60 per share, or nearly 14 percent right now. However, with a covered-call strategy, the company could get called away on its holdings following a big rally in gold or oil. And this has the largest expense ratio of all the ETFs covered here, with a 2.10 percent expense ratio, which can eat into profits.
As such, investors should consider the prospect of low capital appreciation in total. Shares of this monthly payer as a buy up to $4.50.