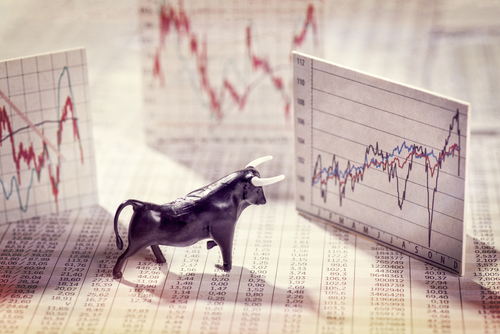 Follow the world's greatest investor with these names.
While investors often follow Warren Buffett into new holdings that his investment company, Berkshire Hathaway (BRK-A) discloses, astute investors can get better returns than the Oracle of Omaha with a little patience.
That's because the market doesn't move in a straight line—and by buying stocks in the Buffett portfolio that are out of favor, or even lower than where Buffett bought, smart investors can get better returns going forward. We've found three holdings worth buying now.
Buffett Stock Holding #1: Bank of New York Mellon (BK)
Shares of bank giant Bank of New York Mellon (BK) —one of many banks in the Berkshire Hathaway portfolio—are trading down over the past few years. And they're trading at a steep discount to the peak they once traded at back in 2001, when shares topped $60.
What makes this bank a potential buy now? For starters, despite some fear about the banking system, the big banks are doing just fine in today's environment. Bank of New York Mellon has sported a fat 24 percent profit margin, a nice chunk of change for the banking industry as a whole.
Right now, the company is trading at just 12 times earnings, and shares have lagged the stock market by 10 percent in the past year. That's a nice undervaluation relative to the overall market that will return in time.
The bank trades just a bit over 1.1 times book value—a bit expensive for a smaller bank whose valuation is dependent on a book of loans, but reasonably priced for a big bank that earns fees from other operations outside traditional bank lending such as consulting on public offerings and other investment bank services.
Overall, it's one of the better-managed, better-valued banks in the space, and on a valuation basis, shares look more attractive than when Buffett first started buying this position—which may explain why he continues to add to this stake just about quarterly!
Investors should follow along given the valuation here, with an eye towards buying up to $47.50. Shares pay a 2.6 percent dividend.
Buffett Stock Holding #2: Apple (AAPL)
Over the past few years, Buffett has built Apple (AAPL) into his largest stock position in Berkshire, more than twice the size of his second largest holding.
That's a far cry from the days when Buffett famously shunned technology and technology-related companies. Yet Buffett hasn't changed, so much as times have changed, and what constitutes a value stock has changed with it.
Apple may look traditionally expensive as 20 times earnings. And shares trade at all-time highs, with a total company valuation in excess of $1 trillion dollars. But looking forward, Apple has the technological prowess and branding power that will allow it to continue to lead the industry for consumer technology for decades to come. It's that understanding of value that has pushed Apple to one of the largest holdings for the company.
Over the past year, Apple has announced a slew of initiatives to take things to the next level. The company is looking beyond hardware and into software and the end-user experience to make it better. That's a higher-margin proposition than manufacturing a new version of the iPhone every year, and the company is likely to continue gushing insane amounts of cash as a result.
Shares of Apple are a buy up to $245, where they yield around 1.25 percent.
Buffett Stock Holding #3: Kraft Heinz (KHC)
Rounding out the top buys in Buffett's portfolio now, we come to Kraft Heinz (KHC), a position where Buffett has admitted he overpaid. But with a share price down over 50 percent in the past year, you don't have to.
The company's decision to write down the value of the merger between the two food giants into one super-giant in the past year have been the principal factor weighing on shares. But with insiders at 3G Capital buying up the shares that the fund is selling, and with a valuation pushing the dividend close to 6 percent, this is one Buffett position where today's investors can get a far better deal.
Buffett has also stated that he intends to hold his position for now, and that he isn't adding to his stake here. Historically, Buffett has tended to hold some positions of this nature until they turn around, meaning that today's investors will have a clear exit sign for this position once the money's been made.
Final Thoughts
Markets are dynamic, and a great investment can still go down before it delivers profits. Or a company may improve its operations and outlook faster than shares can price them in. Looking at companies already vetted by history's greatest investor, we can find some values hidden in plain sight in some of today's big-cap stocks.