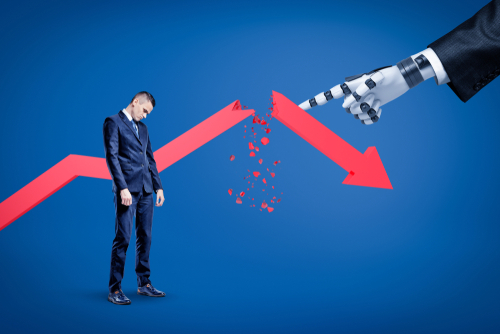 These companies are likely to have poor performance going forward.
While the market moves in broad cycles, individual stocks can often march to the beat of their own drum. That allows investors to find opportunities no matter what the market is doing.
Sometimes, an out-of-favor blue chip has a sudden love story with the market and sees shares back in favor.
Other times, slow-moving blue chips are in a position where, unfortunately, they end up stagnating or declining.
Investors searching for bargains will often find them in big, well-known companies. But those bargains don't last forever, and a company that's had a great run is then often due for some under-performance as the fundamentals have to catch up with the big move in the markets.
Special:
The Top 5G Stocks to Buy Now
Looking forward, we can easily see two blue-chip companies to avoid now.
Blue Chip Stock to Avoid #1: AT&T (T)
In 2018, it looked as though the telecom company couldn't catch a break. It was under fire for a series of expensive acquisitions, and shares traded in the low $20's.
But that was exactly the time to buy. Shares spent 2019 in rally mode, rewarding investors who held their noses sand bought during the fear.
Today, with markets more bullish on the stock, following a 27 percent rally in the past year (beating the stock market by 10 points), shares look like a hold here for existing shareholders—or an outright sell.
That's because the move higher has come as the company's latest acquisitions have started adding to the bottom line. The company has moved away from being a content delivery company with legacy telephone operations into a full-service player thanks to Time Warner and DirecTV.
Those buys added substantially to the company's debt load, and they're focused on paying it down now that all the acquisitions are complete. While cash flow has also improved, until that debt goes away (or at least down significantly), it will weigh on profitability.
That's already apparent by the company's mere 9 percent profit margin. And the company continues to lose business in its legacy operations, which certainly don't help make for a stronger bull market case.
The final piece of the picture is the share price. Over the past few years, shares have traded between $25 and $40, and shares are getting on the high end of that range.
Investors who are patient can buy in the low $30 or even high $20 range, where the company's big (but barely growing) dividend can offset a lot of market volatility.
That was the case a year ago, when investors could have picked up a dividend yield north of 7 percent. Today, the yield is down to 5.4 percent. That's still attractive, but not when you factor in the big move shares have already made.
Blue Chip Stock to Avoid #2: ExxonMobil (XOM)
Although Exxon has been one of the best-managed U.S. oil firms, thanks to its sheer size and relatively conservative balance sheet, this is another position where investors should take profits or look elsewhere for the time being.
That's because the company has committed one of the biggest sins an energy company can do—it's failed to replace its reserves. Each year, its total oil and natural gas holdings are in decline. That's unsustainable, and at today's prices, the company should have no trouble picking up assets from troubled competitors on the cheap.
What's more, oil prices have perked up in recent weeks, as OPEC and satellite oil-producing nations have been pushing for more cuts in production.
While that should keep prices from going down, there's still excess supply on the market that will take time to work through. And with shale-producing plays in the United States still gushing out oil assets, there's a lot of production outside OPEC that makes their cuts less effective than in the past.
While we don't see Exxon shares headed significantly lower, unlike some traders, shares haven't done too well in the past year, with a 9 percent drop, even as oil prices have ticked higher this year.
Investors would be better off avoiding this blue-chip name for the time being until the outlook for the oil market gets materially better, not bouncing around on the latest OPEC headlines.
Rather than follow shares now, investors should wait for an opportunity to buy shares under $65, a price they very, very occasionally trade at, and where they likely will again the next time oil prices take a dive.