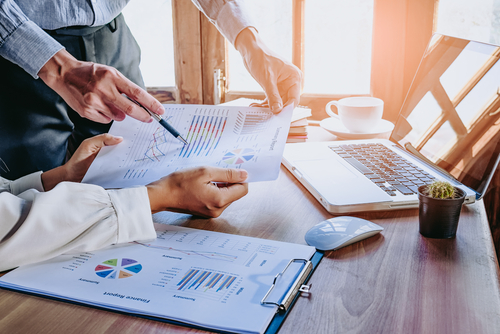 Buy great companies with low debt for a great long-term, low-risk investment.
Concerned about a recession? One quick way to filter for companies likely to do well is to search for companies with low debt.
After all, companies with a lot of debt have to divert cash flow to paying principal and interest. Companies without debt have more cash available to reinvest in the company, reward shareholders, or buy up competitors during tough times.
That's why filtering for companies with solid growth and low or no debt is a worthwhile endeavor.
A surprisingly large number of companies trade with low debt right now, and even a few have none at all. Two in particular look like exceptional buys right now.
Low-Debt Company #1: Ulta Beauty (ULTA)
The cosmetics retail company reports $1.9 billion in debt on its balance sheet in the most recent quarter. Back out the $300 million in cash, and it's closer to $1.6 billion. With a market cap of around $14 billion, however, the company has just over 11.4 percent debt to equity.
That's exceptionally low, like having a $100,000 mortgage on a million-dollar home. But there are advantage to this strong balance sheet. Compared to other companies in the retail beauty space, they have less to spend on interest on their debt. Given the fears that grip the retail sector periodically, that's a huge advantage.
And even with this low debt load, the company is able to thrive. Earnings grew at 9 percent and revenue grew at 12 percent. For a retail operation, with high costs for rented space, staffing, and inventory needs, this level of growth is on a solid and sustainable trend. And with a profit margin just under 10 percent, they're doing better than most physical retail outlets which tend to get into the high-single digits.
Looking at the share price, which bottomed around $222 and have essentially now made a round-trip return to zero in the past year after getting as high as $368, there appears to be ample opportunity ahead. It's easy to see why insiders are buying here.
While not cheap at 19 times earnings, shares are still at a discount to the average PE ratio on the S&P 500 Index, which is in the mid-20's. And shares are starting to drift higher again, following some great earnings numbers in the most recent quarters, a trend likely to continue.
Investors should consider shares up to $260.00.
For speculators, given the high cost of shares, options may be prohibitively expensive. However, the June 2020 $275 call option, trading around $17 or $1,700 per contract right now, could have a great percentage move if shares continue to drift higher.
Low-Debt Company #2: Intuitive Surgical (ISRG)
With a massive cash hoard of $2.9 billion an a mere $77 million in debt, Intuitive Surgical is more than debt free. Shareholders who buy are getting about $25 per share in cash.
Of course, they're getting more than that too. They're getting a business with double-digit growth. Revenues were up 22.5 percent in the most recent quarter, and earnings were up nearly 36 percent. And with a profit margin just over 30 percent, this company is a huge winner in the robotic surgical system space.
What's more, things are only getting better. The company recently received FDA approval for two of their latest technologies to advance minimally invasive surgeries performed by the company's robots. And with a rollout of their tech in just 5,000 locations, there company still has a lot of space to grow its network as it also continues to create new products.
There's a reason this company has been a market out-performer in the past few years… and there's no reason to see that trend stopping. While shares may look pricey near all-time highs, the company trades only a hair above levels it first set in early 2018.
This kind of slowdown after a much longer rally is a normal process, and with the company's ongoing operational strength and massive cash hoard, it will likely continue to perform well far into the future.
Investors should look for any opportunity to buy shares up to $575.00, with some cash set aside to pick up a few more shares on some of the periodic drops to the $500 range.
Although a lot of 100 shares means options contracts are for about $57,500 worth of stock right now, speculators who pick up the January 2021 $700 call, trading for around $30 or $3,000 per contract, could get the benefit of a further rally in shares in the next year without having to put up anywhere near as much capital.