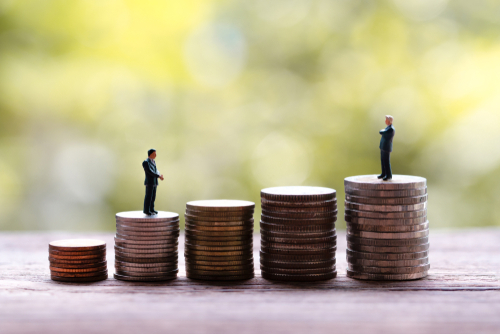 Grab higher income with these small-cap companies.
With a potential stock market selloff underway once again, investors who simply bought growth may be feeling a pinch.
But investors who use selloffs to add to income-producing names at reasonable prices are likely looking at the new opportunities that will emerge as a result of the selloff.
For those joining in the income crowd, there are a number of smaller investment plays that can provide high income now, along with future growth potential later.
Most smaller plays that provide high income are typically structured as REITs, MLPs, or BDCs. While these structures sound different, companies that use them trade just like ordinary stocks, but these companies offer higher payouts now in exchange for tax benefits at the corporate level.
Small-Cap Income Play #1: Sotherly Hotels (SOHO)
This REIT has a focus on unique hotels in a number of markets, mostly across the fast-growing Southeastern United States. The company buys up undervalued hotels, refurbishes them, grows the cash flow from them, and passes it on to shareholders.
While many of the big hotel REITS have hundreds of properties, this play has just 14, with just over 3,100 rooms. The markets include high-end, growing areas, and most of Sotherly's properties are in the upper-class to luxury hotel space.
This policy of buying quality and improving the margins is why the company has managed to grow its dividend in 11 of the 15 prior quarters, something typically unheard of in the REIT space where one or two changes per year in the dividend are more common. At current prices and payouts, the yield is in the high 7 percent range, far higher than the average real estate play.
Of course, there are some caveats that come with an investment like this. Hotel REITS typically are considered risky in the real estate universe. A slowing economy can weigh heavily on room rates, sending travelers to lower-end rooms or skipping the vacation entirely.
With all the fears swirling in the market this year, shares of this hotel company have dropped about 5 percent, far underperforming the market. And the company, typical of real estate operations, carries a high debt load which could weigh on profitability and the ability to send increasing dividends to consumers.
But given the long-term growth path for this small-cap play, as well as the high income now, shares could provide investors both income and capital gains.
Shares are a buy up to $7.00, but can be bought for closer to $6.50 right now. There are no options trades available on this company, given its small size right now.
Small-Cap Income Play #2: Hercules Capital (HTGC)
This business development company (BDC) provides capital to growing companies that are either too small to go public, or can't get traditional sources of lending such as a bank loan.
Hercules focuses on investments in technology companies, with a specific focus on venture lending. Since its inception, it has funded nearly 400 companies, of which over 160 have either gone public or been acquired elsewhere.
Current investments include companies like Paratek, Plug Power, and 23AndMe, among others. With a massive portfolio of investments, the company is diversified against any one position impacting the entire portfolio should one of these companies go into bankruptcy. That's a nice blend, as winning technology companies that explode in value can more than offset any portfolio losses from the inevitable dud.
With over $9.7 billion in commitments and $2.3 billion in assets under management, the company's share price doesn't fully reflect the value of all its lending activities.
Like a REIT, a BDC pays out 90 percent of its income to shareholders to avoid corporate taxation. That allows the company to pay out a dividend yield just under 9 percent right now.
This company has just edged out the market in its total return with a 16 percent rally this year, but given the company's relative valuation, trading just under 10 times forward earnings, there's more room for this position to continue higher while also paying out a high dividend.
Shares are a buy up to $14.50. While there are some options plays available for this company, they don't make a lot of sense for speculation given how high-yielding companies tend to avoid the strong rallies that make it more profitable to buy call options.