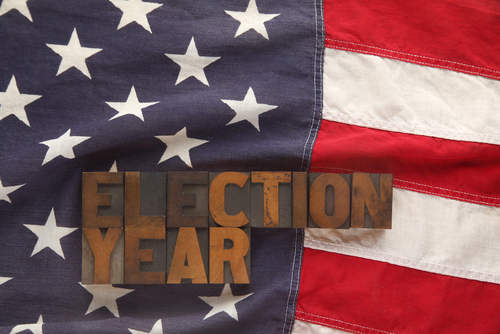 November's election may change business as usual, but not for these companies.
Astute traders are already starting to look to the November presidential elections. That's because any change in the White House could spell big changes on a number of tax and regulatory items.
Traders don't like uncertainty, and that will start to be reflected later in the year.
For the time being, however, a few companies stand out for the high likelihood that they'll continue to make investors money hand over fist no matter who occupies the oval office.
By targeting companies likely to do well now, investors will be able to use any election uncertainty in the markets this year as a reason to get into these solid companies at a discount.
Presidential Election Play #1: JPMorgan Chase (JPM)
While a number of presidential candidates have talked tough regarding some of America's biggest banks, the reality is, not much is likely to change should an anti-banking candidate get into office.
That's the simple reality that investors noticed when the Dodd-Frank legislation, passed after the Great Recession, tried to rein in the banks. Robbed of its first-draft teeth, the bill simply added a lot of little things while mostly keeping business as usual.
That's allowed the big banks to get even bigger, and basically with government approval to do so.
While we see some opportunities earlier in the year with under-performing names like Wells Fargo (WFC), the real winner for the election and beyond is likely to be JPMorgan Chase (JPM).
That's because this bank, the largest by deposits, is also one of the best managed. When push comes to shove, for a longer timeframe, it's the astute management of CEO Jamie Dimon that will likely carry the day for this bank over the other mega-banks.
Trading at just 12 times earnings, the bank sports a 33 percent profit margin, largely thanks to its massive trading operations that allow it to have very few losing days each year… if any.
With revenue growing 10 percent per year and earnings growing 20 percent, the bank is one of the steadier names on Wall Street, and has had fewer scandals than at other banks.
Best of all, thanks to an increased dividend, shares pay out $3.60 per year, or about 2.6 percent. That's a solid starting yield, and the dividend growth will likely continue as long as the company's growth does as well.
As this is a company likely to continue seeing steady gains in its shares over time, traders can likely earn a great return with the January 2021 $150 call option. Trading for around $5.00 right now, a continued rally in shares could make for a low-risk double in the options space this year… no matter who wins the election in November.
But as we're looking to take advantage of market uncertainty before the election, consider putting in an order to buy shares up to $130, and to buy the January 2021 $150 call when it gets down to $4.00.
Presidential Election Play #2: Lockheed Martin (LMT)
The year started off for a potential war with Iran… which quickly faded out. But a presidential race can impact defense stocks, depending on who is leading in the polls and what their view is on the role of the military.
As one of the industry-leading stocks, that means investors should expect volatility in Lockheed shares later in the year.
But that's no reason to panic. As with the banking stocks, attempts to scale back military spending mostly occur on paper rather than in reality, and companies servicing military contracts like Lockheed does for helicopters and missiles will still find plenty of business. And, of course, the company's civilian product line should continue to hum along just fine this year.
It's hard to get an exceptional bargain in the defense names, but with shares of Lockheed trading around 17 times earnings, any war fear or dive on a political horse race later in the year could provide a great long-term entry point.
With shares around $430 right now, we'd want to try and get in around $415 to $420. At that price, investors will get about a 2.3 percent dividend yield, but it's also one that the company has grown over time.
For speculators, any drop in the defense space would make for a good short-term opportunity to buy call options. Looking at the potential for a few pullbacks in the defense space this year, the January 2021 $450 calls, trading for around $20 right now, can probably be bought for around $18, or $1,800 per contract as a play on the eventual share price recovery.