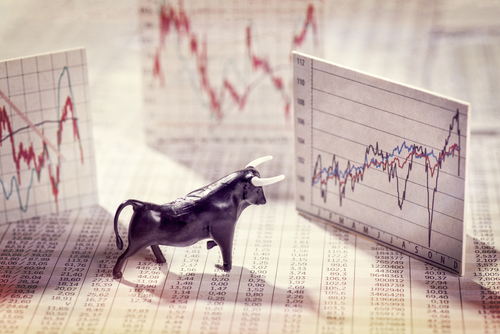 These beaten-down names are cheap, and showing signs of life.
While there's a disconnect between a company's share price and its value, there are a number of low-priced stocks that have the potential to move higher.
These companies tend to be smaller, and tend to have higher growth rates than more valuable companies, whose management tends to support far higher share prices.
Looking at some cheap, beaten-down names likely to head higher in the next year, a number of companies with high risk and reward potential have emerged.
One is in the energy space, where it looks more attractive the cheaper energy prices get. The other is in a beaten-down sector in the final stages of a selloff and set to move higher in the coming months.
Beaten Down Company Under $10 #1: Bloom Energy (BE)
One of the more interesting names in the energy space right now is Bloom Energy (BE). From its IPO in 2018, the share price peaked at $40 and recently slid under $3 before starting to head higher in recent weeks.
The company is in the business of creating small-sized power generation for warehouses, mid-sized businesses, and large retail operations. Taking advantage of America's abundant and ever-cheapening supply of natural gas, Bloom Energy has its generators in a number of locations for S&P 100 companies.
Shares hit the skids earlier this year as growth came in slower than expected, and with it, profitability. With the company unprofitable, its massive slide from its post-IPO launch makes some sense. But revenue is growing by double digits—nearly 23 percent in the past year. Its most recent quarterly beat has helped shares stem their losses, and start the price moving higher.
With the cost of natural gas continuing to decline thanks to massive overproduction in the shale space, the company's largest costs are going down at a time when other companies are dealing with rising costs. And the company is getting positive press, as 26 of the company's 89 micro-grids are operational in California, where wildfires and political issues stemming from the state utility have led to a series of brownouts.
The company is in its fourth generation of generators, and working on a fifth with an expected life of 7.5 years, beating the existing 4.7 years of operation from its current generation. Longer-lasting power generators will help the company attract longer-term oriented investors.
With shares recovering quickly in the past few weeks, investors should consider shares up to $7, with the expectation for a possible double in the next year or so if the current positive trends continue. Speculators should consider the May 2020 $7 calls, which for $1.45, give a more leveraged way to play a continued rally in shares.
Beaten Down Company Under $10 #2: Cronos Group (CRON)
A Canadian-based investment firm focused on top medical marijuana products, Cronos Group (CRON) has played this sector up and down before—and shares are currently out. That trend will change in time, and thanks to the 20 percent drop in shares in the past year, and about a 70 percent drop from the company's 52-week high, a rebound could prove rewarding from current prices.
The company reported a 237 percent surge in revenue in the most recent quarter, showing the long-term prospects of the medical marijuana space are at odds with the perception of investors right now. The company has a multi-billion-dollar valuation, and has little debt on the balance sheet, showing that it's capable of surviving this latest slump in the industry and heading up as sentiment improves.
And with insiders owning 48 percent of the company, or nearly half, today's investors are getting in at a great price and with a management team aligned with long-term returns for investors.
Cronos is also shifting towards the fast-growing U.S. market, by making some changes towards US dollar reporting and US GAAP accounting starting in the next quarter. Once that happens, more stateside investors could start paying attention to the company. Combined with a more favorable outlook for this space, and shares could take off once again.
Shares of Cronos currently trade under $6.50. This is another company where a buy under $7 could yield some huge upside in the next year, although more likely 30-40 percent unless interest in the sector once again attracts a lot of capital. Speculators should look at the May 2020 $7 calls, trading for just over $1.00, or $100 per contract, as a leveraged way to bet on an upside in the next few months.
No. 1 Commodity Stock to Buy in 2020

Hint: It's not silver, platinum or any other precious metal. It's not aluminum, nickel, iron ore or lithium, either.

But without it, we couldn't make airplanes, automobiles, batteries, boats, cosmetics, computers, surgical tools or smartphones.

Yet this metal could soon experience the greatest supply crunch in history … which could launch its price to levels never seen before.