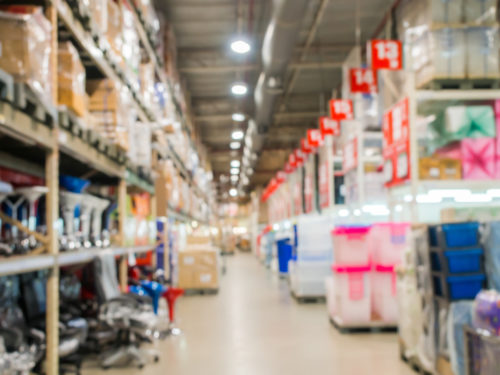 These two plays could beat the market this holiday season.

We've already looked at a few plays in the retail space likely to benefit no matter what happens this holiday season.
But those plays are largely in big-box plays… and a few smaller players are setting themselves up to be a great gift for investors this holiday season.
With one company that's been killing it on earnings, to one that just had a big miss this quarter, there are two opportunities right now likely to beat the market.
Holiday Retail Trade #1: TJX Companies Inc (TJX)
The company, best known for TJ Maxx, an off-price apparel retailer, also owns HomeGoods, giving it a play in that space as well.
The stores, which rely on a "found treasure" model, encourage heavy foot traffic to stores on a regular basis where shoppers can look through for clothing and other items selling at a steep discount to traditional department stores.
This model has proven popular and successful, even in the digital age. Indeed, its business model plays up to the desire to bargain hunt, rather than wait for a saved item online to go in sale.
The company's ability to buck this trend towards digital sales has worked out well. In the most recent quarter, the company updated revenue expectations, expecting a 3 percent rise in sales for all of 2019.
It's no surprise that with this steady growth in sales—even for a low-sale retailer—the company has managed to beat the S&P 500 Index by 5 percent in the past year. Shares are likely to continue that outperformance through the shopping-heavy holiday season.
Investors should look to pick up shares up to $62.00. Although shares are currently near a 52-week high, they seem poised to head higher, possibly over $65 by year's end.
Speculators can look at the April 2020 $65 call as a less expensive way to bet on shares heading higher—just $1.65 or $165 per contract. The option should show high-double or low-triple digit returns if shares can get to $65 before 2019 ends.
Holiday Retail Trade #2: Kohl's (KSS)
While TJX Companies is in the market's favor, Kohl's (KSS) isn't. The clothing and housewares retailer with over 1,150 stores recently reported poor earnings and lowered its guidance going into the end of the year.
That helped push shares down nearly 20 percent on the day it reported earnings. However, the severity of the selloff was overdone.
Shares are likely to recover part of that loss by year's end, and the company's fourth-quarter sales are the ones that really matter thanks to the holiday shopping season. This is a great setup for investors in the short-term as a result, even though many traders will be fearful of the stock following the steep drop in shares.
Thanks to the selloff, shares have been pushed down to less than 10 times earnings, less than half that of the in-favor TJX Companies.
And the selloff has pushed the company's dividend to 4.6 percent. That's a good return, but if the company can't turn its operations around, its high debt load may cause it to cut the dividend in the future.
That decision, however, will occur after the holidays—which will likely be far better than the company's third-quarter numbers, and making for a great trade now. Kohl's follows a business model similar to TJX, with many different and changing discounts in store to drive foot traffic—a method that's been great in the past to drive sales during the holiday season.
While a bit riskier-looking than TJX, the company's relative underperformance recently means it could surprise further to the upside. With that in mind, speculators should look at the June 2020 $50 calls, which currently go for around $4.10, or $410 per contract.
That's cheaper than buying 10 shares, but a surge higher on solid holiday numbers and the post-earnings slump could provide investors with a low-triple-digit gain from here.
Final Thoughts
Overall consumer spending numbers suggest that, while the economy is slowing, it's disproportionately in industrials and export-driven items. For clothing, fashion, home goods and the like, there's still been growth in spending this year—and the holiday season has yet to begin.
To get the best returns from the holiday season, any retail play going into the end of the year should be bought in the next week before Thanksgiving. Once Thanksgiving hits, the retail plays tend to start to move upwards—possibly quickly if the Black Friday numbers look good.