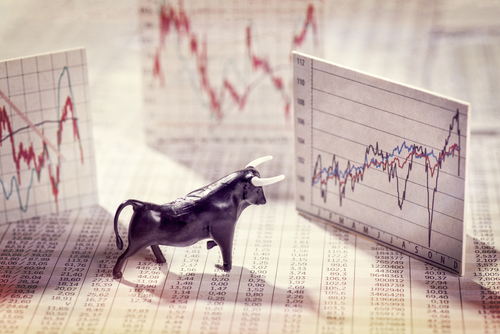 These names offer solid yields as well as upside potential.
We're fans of dividend paying companies. There's nothing as satisfying as getting regular cash payments, especially during those periods of market uncertainty.
What's more, dividend paying companies are usually more financially conservative, focusing on managing their existing business rather than on growth. While that may scare off growth investors, it doesn't need to.
Urgent: To Any American Who Owns A Cell Phone

If you own a cell phone, then mobile service providers hope you never get to see this video going viral.

It was shot in downtown Denver by a multi-millionaire, who exposed sensitive truths about cell phones and 5G.

His experiment will strike a bad chord with cell phone companies, I know. But you've got to see what this man "leaked," and what it means for phone users in the weeks ahead.

Click here to see this developing story.



There are plenty of small-cap plays can offer growth as well as current income now, which makes them attractive bargains in today's environment.
Small-Cap Dividend Play #1: Bar Harbor Bankshares (BHB)
After declining in recent weeks, this small bank with a $300 million market cap is starting to look attractive for a number of reasons.
First, shares are now trading at about 90 percent of book value. As book value is a measure of a bank's outstanding loans, any discount there gives investors a margin of safety. As a smaller bank, it doesn't engage in trading or M&A activity, which can swing along with the economy. And insiders have a tendency to pick up shares when they get near their 52-week lows, so we could see some more activity there if the recent decline continues.
Even better, when smaller banks get acquired, as they often do, it's at a premium to book value, usually by 20 or 30 percent.
Thanks to the sliding price of shares, the bank has now seen only a 1 percent gain in the past year, well underperforming the market. Yet with a 22 percent profit margin and with shares trading at 13 times earnings, they're looking like a solid value relative to the market as a whole.
And because Bar Harbor Bankshares is based entirely out of Maine, it's a steady player likely to face less swings than a market that goes in and out of favor.
But the best reason to own shares is the dividend. Management pays out about half the company's earnings in the form of dividends. That's resulted in a 3.7 percent yield, but also one that's been growing over time. The company just raised the annual payout from $0.84 to $0.88. That's not a bad level of dividend growth, either.
We see a great long-term opportunity for investors up to $23.50. And given how bank stocks can fluctuate in and out of favor, there's likely some chance for some capital gains as well within the next year. Shares have traded as high as $27.50, about 19.5 percent higher than where shares now trade.
As a smaller-cap player, there are no options trades for speculators, but with so many big banks to choose from there, or elsewhere in the financial space.
Small-Cap Dividend Play #2: CNX Midstream Partners (CNXM)
America's energy production renaissance is bad news for most energy companies. That's because high production keeps prices low, often too low for many marginal producers to really make a profit.
While that's bad for explorers and producers, companies that store and transport oil and natural gas can make a bundle from this heavy production. We've seen strong evidence of that with a large amount of insider buying in this space.
Best of all? Pipeline companies know that their earnings will be volatile. When things are great, they mostly focus on paying out income to shareholders so that it isn't reinvested in projects that look good during a boom.
With that in mind, the $975 million market cap CNX Midstream Partners looks like an attractive income opportunity. With shares trading at less than 6 times forward earnings, and while sporting a 49 percent profit margin, this pipeline play is producing a 10.3 percent yield right now.
And that's coming off a dividend that was just raised to $1.60 from $1.52!
Although shares are down 8 percent in the past year, earnings are up 23 percent and revenue is up 21 percent. That kind of growth—combined with the high profit margin—makes this look like a company that's trading too cheaply to pass up, especially when investors can get paid so well to wait.
We like shares up to $16. They've traded as high as $17.50 in the past year, and have occasionally slid into the $14 range. So today's buyers may want to set aside some capital to make additional buys at a lower price later, where the yield will be even higher.
There are some options to trade, and speculators can pay just $0.40 for September $17.50 calls right now. On a rally, this trade could be a double, but if shares simply trade sideways, buy-and-hold investors who pick up the dividend payments will come out ahead.